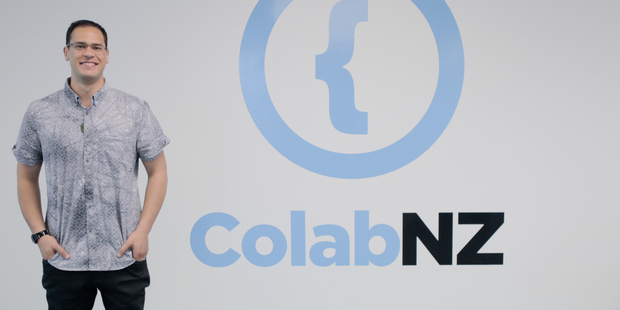 Robett Hollis of Frontside Media has created ColabNZ a free space for start ups at offices in Queen Street. Or as he puts it: "I started a shared workspace in Queen St. It's going epic so we're expanding and giving a bunch of space away for FREE to help grow NZ's startup hub. My goal is just to get a bunch of young smart cats all in the same spot doing damage!!"
Tell me about your business and your personal background
I have spent the past 10 years travelling all over the globe as I was an ex- professional snowboarder and Olympic commentator. In 2005 I started a snowboarding community website which has now expanded into Frontside Media which is NZ's largest action sports network. We have a team of 16, seven websites, three TV shows and an app company all focused on promoting and growing action sports participation in NZ. This is what we do...
How did you come to set up ColabNZ?
ColabNZ was simply an organic expansion of our office layout after countless people kept coming into our Frontside Media offices which is set up with a table tennis boardroom table, tequila bar, bike racks, mini golf, surfboards, skateboards and just a really chilled but professional vibe. They kept telling me it would be amazing to have a bigger space with a similar theme and filled with like-minded people. So that's what we did. We took out the whole top floor of the building overlooking the city, hand-picked a bunch of cool cats and we all turn up everyday and do damage. After filling the entire top floor we have now expanded ColabNZ to two floors on Queen St and are currently working on our next building. We call it ColabNZ - A Shared Workspace for Powermovers.
What are you trying to create?
I want to create NZ's startup hub full of ambitious people on the grind. ColabNZ is just an extension of our existing business philosophy of surrounding yourself with positive and smart people and letting good things happen. There is so much power in minds coming together to network, support and help each other. Literally you could walk into ColabNZ right now and probably get anything you need sorted in your business. Design, programming, production, apps, data and more. It's soooo rad! My new business model is called "The Tennis Ball Theory". It's ridiculously basic - I want to be able to throw a tennis ball and hit whoever needs to do anything in my business on the head. Haha.
Create anything or fix anything. And with ColabNZ I think we have done that. It's an easy formula.
What kinds of people do you want to be working with?
Motivated creative, design, IT, entrepreneurs, programmers and young power movers on the hustle trying to change the game in whatever lane they are in. Too many businesses and organisations that I see are like cruise ships and just move too slow - I want our ColabNZ team to be speed boats and link with more people who think the same!
Why are you offering space for free to start ups? What support do you think they need?
I think this country needs to embrace more of it's own emerging talent in these industries and I don't feel there is a casual yet professional space for them to go to right now. You've got groups and organisations trying to help who have meetings to "talk about it" every six weeks. Seriously - six weeks could be the life and death of a startup.
Our ColabNZ Shared Workspace Giveaway was just the perfect opportunity for us to reach out to those that need that first step to get out of their PJ's on the couch and put them in a rad environment with others that are as dedicated to be successful as they are. The winners just pay for their internet and that's it. When they have little wins and grow their businesses one step at a time - this country gets a lil' bit better, smarter and faster and that's dope!
How long will you offer the space for free?
All the 15 winning businesses have won free office space in ColabNZ until February next year with the overall winner getting all of 2014 absolutely free for them and their business. That's a huge weight off their shoulders and something which I know will help them out heaps. I think I will do it every year and help bring more crew in the mix. The more the merrier I reckon. I have been blessed with so many things in my life, I just know if I was in their shoes I would want to be here too. To get inspired in business and take action. We are bringing in guest speakers to talk with our crew and we have Balcony Beers on the top floor every Friday to network with friends and mingle so it's a great work/fun balance.
Do you have any other ideas for creating a space friendly for start ups?
Yeah - Do NOT build it as a business trying to make money from the space. I think that is where some other places have got it wrong from the get go. They build the space as a business with a profit focus first and lose track of the space's real goal to create a culture to help people. The funny thing for me is that ColabNZ isn't even my regular job which is why I think it's killing it. It's simply a passion piece on the side of my normal business that's organically moulding into a movement of its own by helping like-minded people to get together, collaborate and get positive momentum in whatever they are up to. Our sole purpose is to leverage off everyone's networks and various skillsets to help everyone else out - and if ColabNZ can be the stage for this - then I'm all for it.
Are there any other things you would like to do for the greater good?
Totally - I would love to partner with councils nationwide and help set up a bunch of ColabNZ's all over the show. I'd like to create a ColabNZ Academy aimed at students or uni grads who have an interest in the tech industry and help them take the first step for some real world experience and get them in the same room to start making moves.
Aotearoa has so much talent just waiting to get out there. I've already just proven this whole thing has some serious legs and I'm only one dude with a big vision and enough balls to give it a crack. Imagine what we could do with partnerships from a few big corporates, a telco and councils that want to see more growth in this area.
I fully believe the current system and structure for these guys is so slow and broken that it just needs some disruptors to rock up, smash down the door and make moves. I believe that is how we will start to achieve more success as a nation. All I'm trying to do is provide another outlet for them to help take them to the next level.
Anything else you would like to add?
I love seeing all the various ColabNZ crew getting success in their own businesses. I love knowing that I have helped create a culture and work environment to embrace their challenges, celebrate their wins and see them take that next step forward for their business. I want to be a disrupter working with a bunch of smart cats making
Powermoves!


Next week: It can be said that NZ game developers punch seriously above their weight, the likes of Sidhe Interactive, SmallWorlds and Ninja Kiwi. I want to hear from more game developers making some major strides here and overseas who are not so well known - yet. I know you are out there, please get in touch.