Brent Ogilvie, Managing Director, Footfalls & Heartbeats, a company which recently pitched to angel investors at the NZ Angel Investment Showcase organised by The Icehouse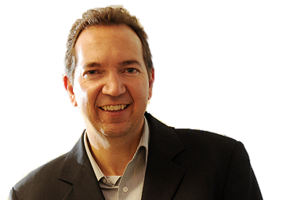 What is the technology behind Footfalls & Heartbeats?
Footfalls & Heartbeats has developed a revolutionary process for manufacturing smart textiles. Our technology is truly disruptive. Our unique angle is that we use nano scale interactions and textile structure to ensure that the functionality is integrated into the fabric structure-so the textile itself is the sensor. This means there is no need for wires or miniature electronics. Footfalls & Heartbeats (FHL) was founded by chemistry researcher Simon McMaster and the technology has been developed with support from the UK and New Zealand governments, the Auckland University of Technology and North Carolina State University.
Our first product is a compression sock that targets the large and rapidly growing, market for effective wound care management but there are also exciting opportunities in other parts of the medical technology market. These are products for high performance athletes, for instance, and, further down the track, measuring mechanical stress in satellites, aircraft wings, wind turbine blades, yacht hulls and high performance cars.
Do you already have investors on board?
We have a number of high quality investors supporting the company including GD1, Sparkbox Venture Group, New Zealand Venture Investor Fund, Pacific Channel and a group of private investors which includes technology entrepreneur Jeremy Collins and expat New Zealander David Bell, a marketing professor at Wharton Business School in the United States and senior members of the Australian medical technology sector. We are also the first New Zealand venture to secure investment from the Chinese Angel investors group, made up of high net worth Chinese looking for opportunities in early stage New Zealand companies.
We have many market applications to pursue and remain very interested to talk to new funding partners.
What did Footfalls & Heartbeats take from the NZ Angel Investment Showcase ?
Footfalls is growing fast. We are partway through a capital-raising round and, I am pleased to say, are attracting strong interest. The Showcase at the Icehouse was a great opportunity to present our offering to additional investors. We are poised for real growth-we have partnered with a number of research organisations and hospitals around the world to develop applications for our technology. This includes Manchester University, Guy's and St Thomas' Hospital as well as Nottingham University in the United Kingdom. We also have a number of promising business relationships with potential customers around the world. That includes some outstanding companies such as Sony and Adidas.
What sort of feedback did you receive from the investors there?
The feedback was very good. Investors see our technology as revolutionary and they have confidence because of our solid patent position and because we are close to commercialising our first product - a U.S. client of ours will launch our smart sock for measuring compression in wound care for treatment of venous ulcers. It will be launched in January 2014. I think the calibre of people involved in Footfalls is also important-we have a greatly experienced board, management team, an international science advisory board and all those people are working together to drive Footfalls forward. The level of investment and commercial interest we are receiving, shows the potential people see in our technology. Investors also like our business model.
What do investors like about your business? What especially appeals to them?
The global market for smart textiles and their applications is truly exciting. There is a lot of growth in wearable technology and as a knitted product we offer something that is actually wearable. One of our advantages is the potential our technology offers for remote and continuous monitoring. Health costs are escalating around the world and Footfalls enables the new "quantified self" market which is the movement where individuals track their own health data. This whole area of remote monitoring has the potential, globally, to deliver huge cost savings for the health system and also to improve health outcomes. Investors see that we have the potential to be truly disruptive in an area attracting a lot of interest. I think investors also have a high degree of confidence in Footfalls because of the calibre of our existing investors and the board members that came with that money.
As you look for external investment what sort of information are you preparing to give to investors?
Of course we have comprehensive information available for potential investors but I think the reputation of Pacific Channel, a cornerstone shareholder in FHL, is important too.
Pacific Channel has a long and successful history of partnering with technologists and helping to take their innovation to the marketplace. That has given us well developed relationships with the investment community and well developed processes for capital raising. The company's founder, Simon McMaster, and I have also been directly fronting investors and companies all over the world and nothing beats that personal interaction in terms of conveying what is advantageous and exciting about the technology.
What will you do with more angel investment?
We have a comprehensive plan for moving forward and a partner to commercialise our smart sock for wound care early in 2014. The product will be a key enabler in reducing the downstream complications and costs often associated with the condition. The funding we get will be invested in business development, patents for our intellectual property and new product development. Top of our list is measuring heart rate and including that along with our existing technology within a smart vest for athletes and applications for the aged care market.
How would you describe the funding environment at the moment?
The funding environment is positive for a technology like ours, which is truly novel and has global potential. Footfalls' technology has broad applications in a wide range of markets, from wound healing and compression garments for performance athletes to personal protection equipment for workers in hazardous environments, aged care and mechanical stress of composites. We will be licensing our intellectual property so customers can adapt the technology to their needs so it is very flexible.
Where else are you going to speak to investors?
We are spending a lot of time on the road at the moment. We recently showcased our offering at Advamed in the United States and just this week we were at Australia Biotech Invest. We had strong interest and investment before we went from a number of individuals holding senior roles in leading Australian medical technology companies and we talked to a number of new investors at the show.
Before that event, I attended the World Best Technology Innovation Marketplace in San Diego, which is the world's largest gathering of undiscovered companies and new intellectual property. Footfalls was the only New Zealand company selected to present at the event this year. We have been gaining good profile this year too-one example is being highly commended at the 2013 New Zealand Innovator Awards.


Next week: A while back, I looked at companies set up by men and women who had set up new businesses after their main careers. I recently profiled a young company founder who started up his company straight out of university. He had already been taking on work, so why not? I'd like to hear from young things of 25 and under and hear what you are achieving. Lack of experience can be a good thing. Perhaps you are braver.