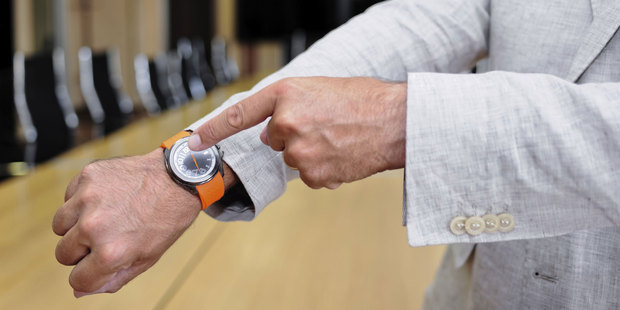 Ever noticed that many groups have an insidious culture of running late for meetings? It seems almost that the bigger the organisation the worse the problem.
Of course there can be a number of contributing reasons, but one big one is very simple and ragingly obvious - people don't allow themselves enough time to get there.
If you work in any organisation bigger than about 4 or 5 people all in the same room, you'll have walking time, quite aside from all the other factors. Add a few floors or different buildings to travel to and from, and no one is surprised when people run late. Then, insidiously, it becomes the norm to start late and run over time. I don't believe it's ever acceptable (unless there are very unusual circumstances).
Trouble is, not only is there the travel or walking time, but what about toilet time, 'gather my wits' time, the quick and urgent phone call, the last minute 'please help' from a colleague as you head out the door, the coffee and water time when you get to the other end? It's as if most people go into a time warp and blank out reality.
Just notice - if even one prompt person is waiting, the organisation's resources and money are being wasted. Try doing a cost analysis on that in any decent sized organisation, and you'll be horrified at the price tag.
Here's a way to deal with this issue. As soon as you accept a meeting, block out the travel time and 15 minutes either side of it. This will act as a prompt when you're tempted to slide in 'just one more thing'.
Don't wait for latecomers - start without them
There's another very common reason for late starts people often feel obliged to wait until most of them are there. Don't wait.
Take the big picture position. Who's constantly late? What impact does it have on the productivity of the others, the efficiency of the meeting, and the culture of the group? (Every group, even a voluntary one, has a culture).
Perhaps my perspective is a little coloured from raising six kids, but if you don't train people to your expectations you get what you deserve. And the chronological age and seniority has nothing to do with it.
Let's look at some possible ways to deal with the tardy ones.
Suppose you're an on-time chairperson and one of your people is regularly late. You could refuse them admittance (not appropriate in a voluntary group, obviously!)
Don't go over things they've missed - it's their responsibility to catch up, and unfair to the prompt people to have to listen to a recap.
Some chairs make the late one take the minutes.
Some groups have a fine system, or the late one has to shout beers on Friday or chocolate cake for morning tea (if it's a work meeting).
What if the person who called the meeting is constantly late? It may be appropriate to start without them. Or the other alternative is to leave. Even if it's the boss, give them 5 or 10 minutes grace, and then go back to your work. You may choose to leave a note - 'Decided not to wait - we knew you wouldn't want us wasting our time!' or some other appropriate comment. Be diplomatic, use humour, and make a stand.
One warning, however. Be cautious of career limiting moves! You may feel this wouldn't work; perhaps your boss is a very dominant person who expects obedience. However, the interesting thing I've noticed with such people is that a staff member who stands up for what they believe is almost always treated with respect by the senior person. If they don't, are you in the right organisation?


Reader giveaway: We have 2 double passes (worth $190.00 each) to give away to Robyn's last 2- hour Breakfast Club event for the year - in Auckland October 25th. Robyn will cover How to Deal with interruptions and other time-related issues and is joined by Susan Carlow from Kinetics with 5 Secrets to Productivity Success with Microsoft Office
To be in to win, email your entry now to jill@gettingagrip.com with Breakfast (NZ Herald Online) in the subject line. Entries close by 5pm Friday 18th October. For those who miss out, tickets and more details at: gettingagrip.com/breakfast-club/
Robyn Pearce (known as the Time Queen) runs an international time management and productivity business, based in New Zealand. Get your free report 'How To Master Time In Only 90 Seconds' and ongoing time tips at gettingagrip.com.