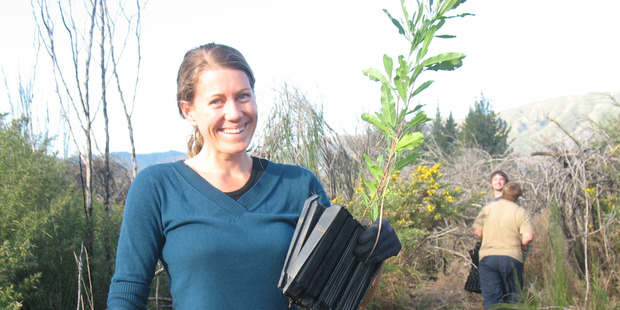 Starting a business always comes at a cost, and for Linley Butler it was her orange VW Beetle.
Selling the beloved family car not only got the solo mother of three young children off the domestic purposes benefit, but also launched HealthPost, a natural health products business that is growing exponentially 25 years down the track.
As many as 1000 parcels a day are sent out from the company's base in the seaside village of Collingwood, in the South Island's Golden Bay.
Linley Butler has now stepped away from day-to-day management and her daughter, Lucy, 33, and son Abel, 32, have taken on some of the management load.
Lucy Butler says her mother's own health problems were the foundation of a business.
She began by buying natural health supplements in bulk, divvying them up and selling them to people in the local community at a reasonable price through a mail order catalogue.
"I think she just hit on a demand really, a demand that wasn't being serviced particularly well in rural communities."
For more than a decade Linley Butler ran the business from her basement with the help of two friends, but the advent of its first e-commerce site in 2001 saw the business step up a notch.
It was a pretty rudimentary website by all accounts, but it was one of New Zealand's first fully transactional online stores.
A major facelift for the site in 2008 introduced the current system that ties together the website with order processing, stock control and accounts management.
The site now attracts 100,000 visits a month, with visitor numbers growing 60 per cent year on year for the past two years.
After moving premises twice, HealthPost is about to expand its building again to accommodate its growing business and the 50 or so staff who work for it.
But Lucy Butler says things change rapidly in the world of e-commerce and competition has come from HealthPost's suppliers, who now sell direct to consumers online. Meeting that challenge requires good product knowledge on top of excellent customer service and speedy delivery.
"It goes beyond just getting people their product in a fast, efficient manner at a good price."
Another way of differentiating itself is through its own brand of health products, BioBalance.
The line-up includes New Zealand supplements made from sheep placenta and the Bliss K12 probiotic for throat health developed by Dunedin scientists.
Several years ago the company also established a charity programme donating $2 from each order to several large charities and an ever-changing selection of smaller charities.
The local focus includes planting trees to re-establish a nearby coastal totara forest.
"A lot of companies have well-developed corporate social responsibility policies and aspects so it's nothing radical in that but another way in which we try and provide a holistic service and approach that fits the industry we're in," says Butler.
Being based two hours from Nelson is not without its challenges, she says, but generally logistics aren't an issue. Close to 100 per cent of orders are sent the day they're received, and will generally be on the customer's doorstep the next day, she says.
Occasionally the sole road link can get washed out but the local community comes through, with helicopter pilots flying parcels out or farmers opening up alternative routes over their land.
"It's all high drama and pretty stressful at the time but it always seems to pan out."
The main stumbling block has been attracting e-commerce specialists to the business as it seeks to grow its presence online.
Butler says many of HealthPost's staff have come to Golden Bay for the lifestyle but it hasn't managed to lure any techies keen on a change of pace.
Brother Abel, who manages the technology side, has now moved to Auckland to set up an operation in the hope of luring the skilled staff they need.