Henry Studholme, owner Prime Foods NZ based in Hororata began production from a new joint venture plant in the Philippines two years ago from where it now exports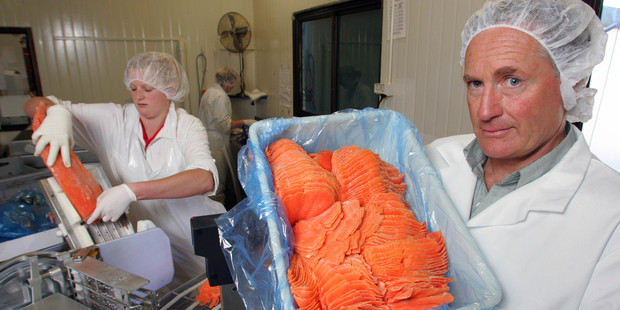 Prime Foods NZ began in 1994 and is based in Hororata. It sells 80 per cent of production to NZ supermarkets including Countdown, New World, Pak n Save and has a small amount of exports now to Australia and the Pacific Islands.
It uses mainly NZ salmon but can now also access salmon and trout from other countries for export to Asia, Australia and USA.
What made you move your plant to the Philippines?
High production and compliance costs plus an aggressively unsupportive local council (Selwyn) forced us to look overseas for a JV partner.
How did you find your JV partner there?
We visited five Asian countries and found an excellent partner in the Philippines, Alliance Select Foods, through a mutual contact.
What are your main export markets? And future markets?
Australia, Japan, Singapore, Hong Kong, Thailand, the US and in the future, maybe the EU.
What options does exporting from the Philippines give you?
Access to other salmon and trout, capacity to process other fish products, proximity to Asian markets and marketing support from our partner company.
How do your export customers respond to the smoked salmon being prepared in the Phillipines rather than NZ?
There's been no obvious resistance to date. After all many food products are now manufactured in Asia - and it is mainly NZ salmon still.
Tips
• It is a major move and requires plenty of resilience. You need to understand the culture in the partner country. Make sure you find a partner you can trust and work with easily. It will take time and patience but the payoff can be well worthwhile once it is established.


Next week, we will continue to discuss the whys and wherefores of exporting. Let us know what information would be of interest to you and we will search out the experts who can help. We might look in more depth at currency hedging which would be relevant in the current roller coast environment. Let us know where you need help.