America's Cup victory key to extra smooth sailing for supplier of crew uniforms to the super yacht industry.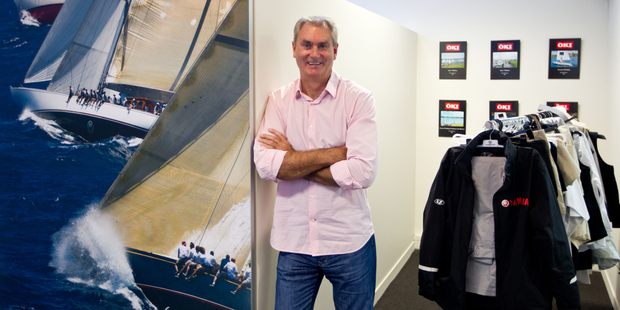 Many of us would be happy if Emirates Team New Zealand won this year's America's Cup. But for Events Clothing Company, the crew uniform outfitter to the super yacht industry, it would mean more.
More super yacht building business in New Zealand would be bound to follow here as it did in the lead-up to the 2000 America's Cup in Auckland, which would be good news for the entire marine industry, says Owen Rutter, founder and managing director of the 22-year-old Morningside business.
"Some people don't understand how big it is. A number of companies got into the export business because of the America's Cup in 2000," he says.
Super yachts are Events Clothing's main customer, followed by motor yachts. There are more than 2000 super yachts worldwide. "And of the top 200, we provide uniforms to 60," says Rutter.
When he gets a super yacht order, it is significant. The gear required will range from T-shirts through to evening suits and dresses and if there is a crew of 60, the bill will typically be around $500,000 to $600,000. That's a lot for a business with a $5 million turnover.
The orders typically come from Europe, the Caribbean and the US. Customers are Arab or Russian predominantly.
Events Clothing's local business includes making the gear for both the New Zealand teams on the Alpari World Match Racing Tour, led by skippers Adam Minoprio and Phil Robertson. It also outfits Team Vodafone's crew with all its gear.
Rutter, whose business is 75 per cent export, is flying to San Francisco in August to network with expat marine industry contacts at the America's Cup.
The marine industry, says Rutter, is one of the top six with strong growth potential identified by the Government.
"What we have to do is encourage owners to build down here. We are still building super yachts but nowhere as many as a few years ago. One super yacht build pays for itself 10,000 times over," he says.
The former professional yachtie, who sailed with Sir Peter Blake, is an experienced exporter who has chaired the New Zealand Marine Export Group and sits on its board.
Events Clothing is a finalist at this year's Air New Zealand Cargo Auckland Export Awards due to be announced on Friday. The business makes most of its clothing in China and does finishing in New Zealand.
The business is in the final stages of acquiring the Line 7 Marine brand from Charles Parsons, the Australian company that bought Line 7 in 2009.
"The brand is ours and we will pay a royalty back to Charles Parsons," says Rutter. Events has always had a relationship with Line 7.
Line 7's founder, Ross Munro, had a shareholding in Events Clothing from its inception until 2006.
Rutter is in the process of securing international distributors for Line 7 Marine but believes the online market is going to be significant for the export of the high performance marine clothing brand.
New Zealand yachties are constantly being asked "how can we buy some of your gear?" says Rutter. This is a perfect vehicle for team partners to say "go to the Line 7 Marine website".
Events Clothing is probably better known than Line 7 to super yacht owners but to the bulk of yachties around the world, Line 7 is a thousand times better known, he says.
"We wanted a brand that we could work with internationally, that would grow our product," he adds.
Top tip
As an exporter, don't be frightened to ask questions. And when you send a shipment to overseas locations, go there. You'll learn so much more.
Best business achievement
Securing the Line 7 Marine brand.