Kris Nygren, CEO, Optimal Experience, the Auckland based usability consultancy on the point of running regular client seminars.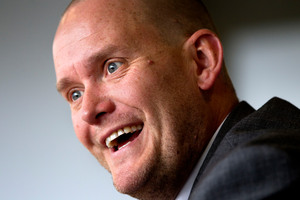 We have been running regular, free breakfast briefings for our clients for at least six years. We serve a nice cooked breakfast and an interesting presentation on a user experience design topic. We run 14-16 sessions per year between Auckland and Wellington and the occasional session in other centres.
The topics have been very varied over the years. We've covered many user experience and design topics, such as co-design, personas and eye tracking. We've talked about how to create government and banking websites that don't suck and presented interesting findings from our own research and project work - such as a recent mobile banking study.
Why have seminars?
Breakfast briefings serves a number of purposes for Optimal. It is both our main marketing activity and a great way to keep our New Zealand clients up to date with industry best practice. Most importantly it's a way for us to provide value to our client network outside of formal project engagements.
Speakers
We regularly bring in speakers to cover interesting topics and real-life case studies. We've had clients including Air New Zealand and Trade Me talk, as well as international user experience and design experts.
The audience
The user experience or design champions from our client organisations are regular attendees. Nowadays, they may have the same role titles as us, for instance, user experience designers or information architects, but most attendees are still project managers, business analysts, developers, customer insights managers, as well as marketing and channel managers.
Feedback
These are highly valued sessions among our clients and it's not just the free breakfast!. We regularly get 100 plus attendees turning up at 7.30 am, most of whom are still milling around for a post-presentation chat after 9 am. We send out a feedback survey after each session, asking attendees to rate different aspects including how relevant they found the topic. The average score over time is 4.6 out of 5 - pretty good feedback.
Business from these events
We avoid selling at the session itself, other than the occasional special offer, but we firmly believe our breakfast briefings contribute directly to clients choosing to engage Optimal.
Tips to other business
Provide real value to your attendees - something that grows their individual understanding and they can take back and use in their own business. Make sure topics are interesting, insightful and presentations are fun and well prepared.
Don't do any hard selling or obvious promotion in the session itself, it'll just backfire. Provide a great breakfast (lots of bacon) at a good, central venue.


There are plenty of examples where SMEs in the same sector or the same location have joined forces to make a bigger splash locally or internationally. Tell us your experiences.