Natural Sugars says it is aligning itself with New Zealand food manufacturers and extending its retail range.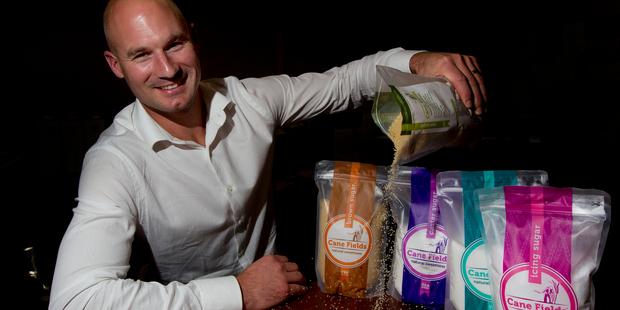 Not everybody has the gumption to strike up a new business in direct competition with major market players during a global financial crisis.
When Natural Sugars' co-founder Hamish Gordon started his business almost four years ago, there were two main companies, Kerry New Zealand, which had the Simply sugar brand, and the New Zealand Sugar Company, owner of Chelsea Sugar.
In 2010, there was some unexpected consolidation in the market. Kerry's owner Singaporean company Wilmar International, bought the sugar assets of Australian conglomerate CSR, which included the NZ Sugar Company, effectively merging the two main players in New Zealand.
Gordon, who was North Island sales manager for Kerry before starting Natural Sugars in June 2009, says it was a complete surprise. These days, Natural Sugars is the second largest player in the retail and wholesale sugar market - "by a long way", he says. It also supplies the Pacific Islands and Australia.
Natural Sugars has the Cane Fields sugar brand, available in white, raw, caster, brown and icing, sold in 750g bags and larger packets. Natural Sugars is one of the leading suppliers of fair trade sugar. The business also has the Harvest Oil brand for most oils, except olive oil, and imports La Espanola olive oil.
"In retail, what we are trying to achieve is a point of difference in packaging," says Gordon."We are also selling the story that we are New Zealand-owned."
Gordon and silent partner Hugh Spence, the former Kerry managing director, have 30 years sugar trading experience together.
Gordon is working to build Natural Sugars' profile to help it compete in New Zealand and beyond. "We have hired a PR company, we have strong sales people and we have good relationships."
For consumers who buy Chelsea Sugar, it's a habit, says Gordon. "It's a challenge for us to break that. It's exciting if you can get across your story."
While it competes with Chelsea Sugar at the higher end with Cane Fields, Natural Sugars also supplies home brands, and has turnover of just under $30 million.
"You have to have volume," Gordon says. The business turned over $12 million in its first year.
The Auckland business has eight staff, Gordon doing the company's trading on the commodities markets. He owns 45 per cent of the company and Spence the rest.
As the challenger brand, Gordon is keen to continue growing. "You never feel comfortable. You have to have that mindset of being relentless and persistent. We try to make things as easy as possible for customers and over-deliver."
Having a competitor like Chelsea Sugar is similar to a New Zealand-Australia rivalry, says Gordon.
Local companies are receptive to doing business with Natural Sugars, liking the local ownership, he says.
"We very much align ourselves with New Zealand food manufacturers, too, like Tasti Products, Sanitarium and Delmaine," says Gordon.
"We are extending our retail range in sugar and oil." And there is still lot of opportunity in the home brand area and in the Pacific Islands.
It is more likely the company would be acquired, rather than be floated, to give him an eventual exit route, says Gordon.
"We just need to knuckle down, grow the business and make it as profitable as possible," he says.
Top tip
Have a strong knowledge of the market, then add value.
Best business achievement
Starting in the middle of the financial crisis, dealing with a lot of volatile and fast-moving parts along with a very tough year.