As internet sales grow, courier firm's ambition is to be recognised as the first choice for online retailers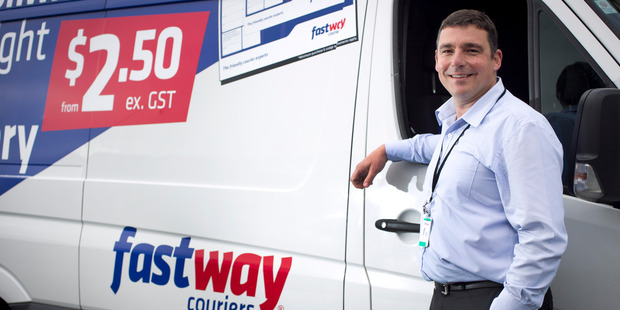 Born in an era when fax machines were the height of office technology, Fastway Couriers is enjoying boom times 30 years later with the growth in online shopping.
Executive director Jason Windhager says e-commerce has significantly changed the supply chain, making it longer and thinner.
No longer do you drive to the shop to buy something that arrived by the pallet load off the back of the local carrier's truck.
It's coming direct from a retailer or distributor, sometimes with no "bricks and mortar" presence, or even any presence in New Zealand.
"We've got some customers who, literally, they just didn't exist three or four years ago and they're now significant clients and all online retailing," says Windhager.
The growth of internet sales galvanised the company into action and it now aims to be the first choice for online retailers.
That focus means Fastway's own technology systems must be top notch.
Windhager, 41, who joined the firm as a director several years ago, oversees the New Zealand operation while former New Zealand chief executive Bruce Speers has become chief information officer of the global operation.
"We're very much an IT-led company," says Windhager.
Fastway has operations in Australia, Ireland and South Africa, and is on the cusp of launching an IT product to link its transtasman networks.
"Sure we've got to move the parcel from here, out to the airport, have it cleared, bounced across the ditch and then back into the network over there, so physically that makes sense, but there's just a whole lot of machinery ... to make sure we don't lose it." Shifting 60,000 parcels a day around New Zealand in the back of almost 300 vans is a long way from the original service that company founder Bill McGowan established between Napier and Hastings in May 1983.
These days the business turns over about $455 million a year, about $100 million of that in New Zealand.
Windhager says Fastway is third in the market behind NZ Post's Courier Post service and Freightways' courier brands, but is challenging for more market share "and having fun doing it".
While technology and parcel volumes might have shifted, some things haven't changed.
Fastway vans all run to a timetable, an efficient model that helps keep costs down, and the drivers are all franchised owner/operators rather than contract drivers typically used by other firms.
"The courier is the face of the business so having them own their share of it was a really nifty way of doing it."
Franchising extends right up through to the regional hubs, with the exception of Auckland, Wellington and Christchurch, which are owned by the company.
Even the Hawkes Bay operation, which is on the doorstep of the company's Napier head office, is run by a franchisee.
"And to be honest with you I think he runs his business better than we could, that's the benefit of the franchisees," says Windhager.
Being Hawkes Bay-based helps Windhager keep an overview of the business as it changes with the market.
"If you're looking to push the company to a whole different level you kind of need a bit of clarity as well and sometimes being a little bit away from it isn't the worst thing in the world," he says.
"All of us travel a lot more because we're based [in Napier] but then with a nationwide business we're always going to be travelling somewhere."
The van drivers have exclusive territories, which start at $15,000 to buy, but all that changed for the company's Christchurch couriers in the wake of the earthquakes.
"One day we woke up and there were a whole lot of territories that you weren't allowed to drive in and there were no buildings and people."
Windhager says the advantage of having franchisees over contractors was it became easy to sit down as a team, re-divide the city and draw up new agreements.
"And I've got to say that Christchurch operation, it's not small by any means, I was just astounded. Nobody dug their toes in. It was just this amazing sense of the team knowing that actually we were not going to do anything unreasonable."
When Windhager joined the firm he says he brought a degree of scepticism about how well a long-established business model could still be working.
After picking it apart he says he now really appreciates what had been done over that time.
While three decades rolls over this month, the official anniversary party will wait until September.
There'll no doubt be some reminiscing about a time when it wasn't possible to track a parcel's every move over the internet and some photos of founder McGowan sporting walk socks and Stubbies.
"That's good fun but I think the more exciting question is: what's the next 30? I just think that's cool."