Cheerful outlook of Merc's only original stall-holders keeps stream of loyal customers coming back.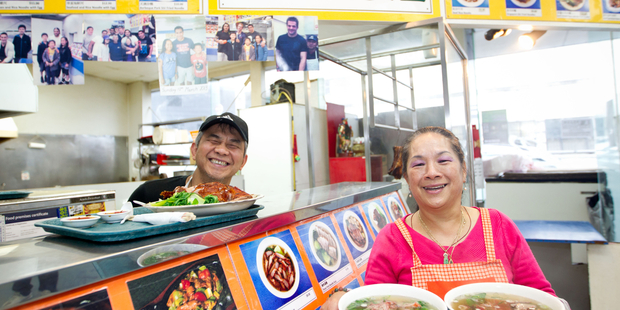 Tony Chan is already waiting outside Mercury Plaza at 9.30 when the building's owner opens up for the day.
In camo trousers and black T-shirt he's the first of the business owners to show up. When I leave an hour later, as roasting ducks spit in his oven and chickens bob gently in the simmering dixie, the rest of the place is still dark and echoing.
The plaza, affectionately known as "Mercs" by its regulars, is a food court and Asian supermarket at the bottom of Mercury Lane off Karangahape Rd.
I noticed Tony about three years ago when I showed up for the second time and he remembered what I had had the first time: "Wonton-soup-no-noodle," he hollered from the kitchen. How could I not nod and reach for my wallet?
"It makes people feel good when I remember," he tells me (I have not tried to reproduce the staccato style and free-form grammar of his rapid-fire English).
"I have about 60 to 100 customers a day and 85 per cent of them know what they want when they get here. They don't come here and choose. They decide what they want and they come here to get it."
Tony (real name: Chan Chi Sing) and his wife Chan Fung Ming (everyone calls her Ming) came here from Hong Kong in 1990 and set up in Mercs when it opened in 1994, trading under the sign "Chinese Cuisine". He is proud to say that he is the only original.
He's 58, he tells me, and when I say I'm too polite to ask how old Ming is, he smiles boyishly, leans forward and whispers conspiratorially "she older than me: same year, same month, different day."
Together, they've raised six daughters. "There are seven women in my house," he smiles. Ming adds that Tony came from a family of six boys: "They could have saved one for me."
But Tony says he's not disappointed not to have had a son. "In the old days, maybe yes, now no. I think girls are better than boys, because they look after you. The boys only worry about themselves and want to play."
There's nothing flash about the Chans' place: the drabness of the impeccably clean kitchen is enlivened only by a tiny felt banner bearing Chinese characters that wish the business prosperity and the statue of a famous Chinese warrior who will protect its owners.
The menu isn't broad: duck, chicken, pork (barbecue and roast), beef hotpot - and my wontons, of course. (You can't give fish the proper Hong Kong treatment in a food-hall setting, Tony says). But he and his busy young assistant, Fei, start early because there's plenty of preparation to be done. Wontons are handmade, brisket is softened, pork belly marinated in sugar, salt and five-spice. In a free-standing cylindrical gas oven, roasting ducks hang from hooks around which the necks snake so the eyes stare from the bald heads in puzzled affront.
From late morning until 8.30pm or so, Tony cooks for a steady stream of customers, from celebrities to street people. Rugby stars - there are photos on the wall - are regulars after training. And people come back, he says, because he looks happy.
Ming's happy, too, although she hides it behind a theatrical bark and extravagant facial expressions of disapproval which will suddenly crease into a sparkling smile.
Pay for a $10 meal with a $20 note and she'll say "Ah, $10 tip. Bye bye". You have to stand your ground.
"If people are happy, I'm happy," Tony explains. "If you talk a little bit friendly to people they come back. If you look sad, people don't come to see you."
It sounds like a corporate mission statement but, I tell Tony, I suspect he's just a happy guy anyway.
"You be happy, you won't get sick," he tells me solemnly.
"When my kids were growing up, I played with them.
"Most parents say, 'You just listen to me. If I say one, you must not say two'. But it's more fun to play with them."
The couple's kids have all gained decent jobs: there's an IT specialist in Hong Kong, a planner with the Auckland Council, an optometrist.
"They have an easier life than me," Tony says, with evident pride. "They don't have to use their hands for work.
"But I still work. I like it. If I'm busy, it means I have a bonus income; if it's quiet, I have bonus time for rest. So I get a bonus anyway."