Company's 20-year-old 440 is back on the books after an extensive redesign.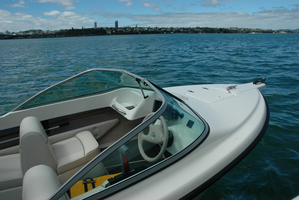 Once one of Buccaneer's most popular models, the 440 has been noticeable for its absence in recent years.
While not officially discontinued, the 440 did not appear on the company's website nor was it actively promoted. The few models that were produced were exported, mainly to Noumea.
As Buccaneer's sales manager, Wade Gerrand explains, the company had long planned an upgrade for the 440 but "other things got in the way".
In the end, it was a persistent customer, demanding "a 440 or nothing" that kicked the redesign into gear, much to the new owner's surprise. Expecting an old style 440, he instead received the first of the new Buccaneer 440 Esprite XLs.
With many families now feeling more positive about the future than they have in some time, demand for trailer boats appears to be on the rise.
Interest is especially strong in smaller vessels - ones that don't cost too much to buy or run and are easily towed by a family car.
The new Buccaneer 440 Esprite XL fits right into that category. It went on sale only the late last year, but interest in the new model is already strong and Gerrand believes the 440 will again be a big seller.
Although those familiar with the older 440 may struggle to recognise the revamped model, the hull is unchanged; it is the deck and inner liner that are new.
Gone are the hard edges, in their place a more flowing form matching the design trends of Buccaneer's newer models. For example, although the windscreen occupies the same area, it is now a differently shaped extrusion, more modern with curved screens and a wide-opening centre section which gives far easier access to the deep anchor locker, although it's still a bit of a stretch to the fairlead when setting the warp.
There is also space for a small capstan, which would make anchoring less strenuous.
The 440 Esprite now also has a moulded bowsprit. Sitting slightly proud of the foredeck, it looks like a separate moulding and complements the curved deckline.
The dash is also new. Again based on one from a recent Buccaneer model (in this case the 530), it has been adapted to cope with either two large instrument dials and a few ancillary switches and things, or one of the latest multi-function displays.
In the test boat, which was powered by a Suzuki 60hp 4-stroke, a Garmin 551S MFD was basically all that was needed. Displaying everything from speed and fuel to engine temperature and battery voltage, it was also a fishfinder and a chartplotter.
For those not keen on this all-in-one approach, there is also a moulded flat section on which a small separate fishfinder can be flush mounted.
There is also a generous recess for items such as sunglasses, keys and cellphones on the port side of front dash.
The 440 has seating for six, with two back-to-back seats on bin bases (again derived from those in the 470 and 530) in the centre of the cockpit and two moulded "jump seats" aft, on either side of the outboard well.
There is good stowage, ideal for lifejackets when they are not required, under the main seats, with easy access under the fore and aft squabs.
The transom has also been totally reshaped. There are now twin integral boarding platforms, those two jump seats and a much smoother look overall, with softer edges.
There is no underfloor fuel tank, but then there is no real need for one. Instead, as part of the full inner liner, there is a new one-piece grid system adhesively bonded to the hull and cockpit liner, forming a rigid and strong bond.
This construction method also traps large air pockets beneath the cockpit sole, further increasing the hull's flotation capabilities.
The new liner, which includes stylish tote tank upstands, also ensures there is enough height under the rear seats for the largest of the 22-25 litre tote tanks and a centrally mounted battery box that is easy to access if required.
The inner liner also forms the basis for the side trays, which have soft panel fronts and rod racks on the port side.
The cockpit is finished in moulded anti-skid and deck tread, although this can be upgraded to false teak or carpet.
The new Buccaneer 440 Esprite XL is rated for outboards ranging from 30hp to 60hp, although I'm not sure many Kiwi boaties would settle for a 30hp.
The first new Buccaneer 440 Esprite XL was delivered to its Rotorua owner with a 70hp 4-stroke and the test boat had a 60hp 4-stroke.
However, those on a tight budget and without a need for speed may well be happy with a 40hp, 2-stroke. That would put them on the water, complete with trailer, for close to $25,000. There certainly wouldn't be a high top speed, but there would still be enough power to get to the fishing or dive sites or to tow the kids on a wakeboard, skis, tubes or wave ski.
The test rig, with trailer and with the 4-stroke 60hp Suzuki on the transom, cost $29,000, which is a sweet price for such a solid, versatile little boat. It gives a top speed of around 32 knots using 21 litres of fuel an hour.
At more moderate revs, the 440 delivers 12 knots (at 6.4l an hour) at 3500rpm, 17 knots (7.3l an hour) at 4000rpm and a very respectable 20 knots (9.6l an hour) at 4500rpm.

Dimensions
Buccaneer 440 Esprite XL
LOA: 4.53m
LOH: 4.35m
Beam: 1.86m
Deadrise: 19deg
Trailerable weight: 740kgs
Construction: GRP
Engine: Suzuki 60DF ATL
Power: 30-60hp
Fuel capacity: Tote tanks
Priced from: $25,000
Price as described: $29,000
Check out the comprehensive boat test on the Buccaneer 440 Esprite XL in the January/February issue of Pacific Powerboat magazine or at www.pacificpowerboat.com.