Concern for staff reflected in their enthusiasm for the nationwide retailer.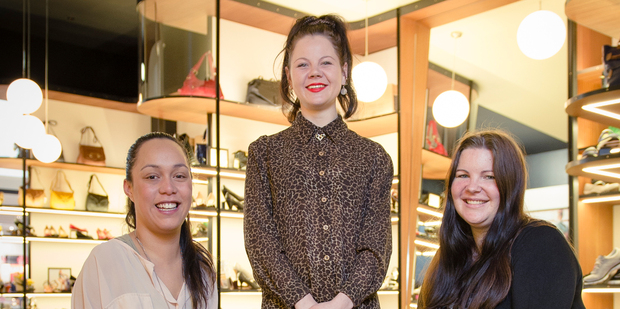 Footwear retailer Overland believes good communication and growth are important to keeping its young and talented staff engaged.
Not only does Overland boast a strong presence in the marketplace with 47 stores and 402 employees in New Zealand, it has also been voted the country's Best Workplace in the Kenexa Best Workplaces Awards.
The award, announced last night at the Langham Hotel, is recognition of its employment brand. It brings it the priceless value of Overland knowing its employees feel proud to be part of a winning organisation.
With a family tradition rich in footwear heritage, Overland managing director Shane Anselmi opened the first Overland store in 1990 in Newmarket, Auckland, after an inspiring trip overseas where he had a vision of bringing his customers the best range of quality fashion footwear sourced from throughout the world. Overland continues to operate as a privately owned family business, with its head office in Auckland.
"Attention to detail and design is paramount to everything Overland does, from the design and styling of its ranges to the look of the Overland and Mi Piaci stores, and most importantly the warm, engaging experience our customers receive when they visit," Anselmi says.
Since that ambitious start 20 years ago, Overland has doubled the size of its business every five to seven years, believing growth is important to keeping young and talented people engaged. As well, it now has two stores in Australia.
After coming second in last year's awards, Overland says that taking part in the best workplaces survey is its way of ensuring its teams feel valued and appreciated for everything they do. And it also shows the company's commitment to providing employees with an experience surpassing their expectations.
Now voted this year's best workplace, the firm strives to focus on values. "We communicate extensively with our stores," says Amy Buller, people and development leader with Overland. "It is a huge area of focus to try and overcome the challenge of having more than 400 people operating across 50 sites.
"We have a weekly result-based newsletter focusing on sales performance as well as celebrating those who have demonstrated our values.
"We have weekly communications that have updates and operation information." There is also a monthly magazine.
The company motivates stores in different locations by recognising those "above and below the target line".
"We have stores from Whangarei to Queenstown and it is a challenge to ensure that even in the smaller teams of four or five employees they are acutely aware they are working for a large, successful and now international business."
Another area in which Overland excels is fostering a family culture, taking into consideration the "whole person".
"We are a family business and we ensure that the extensive communication that we have with our team conveys that," Buller says.
This results in a sense of belonging and pride which enhances people at a personal and professional level. It also recognises the importance of having a work-life balance as a continual focus for its 402 employees.
This is especially true for part-timers who find it challenging to balance home and work challenges, whether that be students who are balancing study with their work commitments, or parents balancing family life with their working hours. To achieve this, Overland provides training to support people and help them think about how to manage and balance their commitments.
Overland recognises that its managers are essential for its success. There is a key focus on leadership development, including modules on emotional intelligence and overcoming conflict. New managers spend time in "A" stores - any of the 13 stores which have an annual turnover of $1.3 million .
In the past year, there has been an increasing focus on assistant store managers as well. "Assistant managers were a focus as they were our least-engaged group for several years in a row," Buller says. "Their role is quite unique and challenging for several reasons. They are also our future managers so it's important to ensure that they are engaged.
"The focus included implementing seasonal assistant managers' meetings where they all gather at our Auckland conference facility for training information, team-building and personal development."
Sanchia Yonge, managing director of Kenexa NZ, says Overland stands out as the winner because it achieved the highest performance index for the large organisation category in the history of best workplaces. It also won the large category awards.
This is Overland's eighth year as a finalist. Over this period employees have said their experience in the workplace has continued to improve. Overland also achieved the best survey response, made more notable considering the organisation's spread over 40 locations.
Survey singles out the places to be
Kenexa, a global provider of business solutions for human resources, conducts the Kenexa Best Workplaces Survey each year to identify New Zealand's best workplace.
Sanchia Yonge, managing director of Kenexa NZ, says organisations take part in the survey to:
Get feedback from their employees that assists them in building great workplaces.
Measure employee engagement and identify what is important to increase employee engagement (to increase job satisfaction, productivity, internal (between-department) service, increase commitment to stay).
See how they stack up compared with other workplaces in New Zealand.
Improve business performance (reduced labour turnover, higher productivity, satisfied customers spend more and are more likely to recommend your organisation).
She says being recognised as a winner also increases market perceptions and attraction of job applications and retention of talent.
* The Kenexa Best Workplaces Awards programme is run in association with The New Zealand Herald and supported by Kiwibank and The Ministry of Business, Innovation and Employment - Labour Group
FIVE BEST LARGE WORKPLACES (400+ staff)
Organisation ranking:
1 - Overland Footwear
2 - Flight Centre New Zealand
3 - AA Insurance
4 - Southern Cross Medical Care Society
5 - Warehouse Stationery