Audacious bid got partners in on the ground floor with a new brand.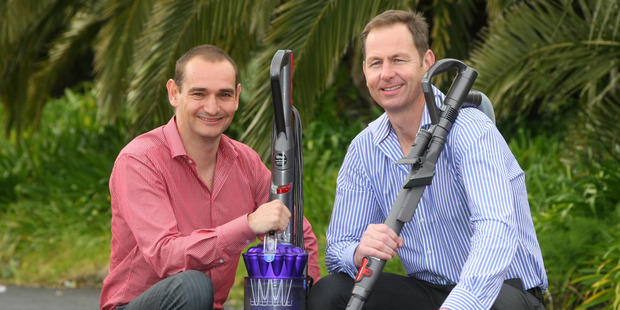 Even a consummate salesman could be forgiven for being daunted by the prospect of shifting 700 vacuum cleaners.
But it was a euphoric moment for Brett Avery and Mark Robinson when a 12m container filled with Dyson vacuum cleaners docked 15 years ago.
For the childhood friends, still only in their mid-20s, it was the end of months of planning and the start of selling.
Robinson and Avery had won a pitch to exclusively distribute Dyson vacuum cleaners in New Zealand, beating some of the big guys in appliance distribution.
Avery says they don't know why they were awarded the rights, but suspects their single-minded focus on just the one brand fitted with Dyson's strategy at the time.
"At the end of the day we didn't know the word 'no', so we were going to make it happen, we had to make it happen, we had everything on the line," Avery says.
In 1997 the Dyson vacuum cleaner was itself new on the market.
Created by British inventor James Dyson, after 15 years work and more than 5000 prototypes, it launched in 1993 with its innovative bagless operation and funky design.
Within two years of launch it was the number one selling vacuum cleaner in Britain.
"That was a very good success story that we were able to tell in selling it in New Zealand," says Robinson. "We had some good figures and some good data out of the UK showing the success of the product."
The timing was also right, says Robinson.
When it launched in New Zealand, vacuum cleaner prices were on a downward spiral and the Dyson offered consumers and retailers something new and revolutionary at a higher price point, says Robinson.
The pair still have the call sheet listing the retailers they visited in the first month of sales. It covers the length and breadth of the country, with stops everywhere from the big name appliance retailers to owner-operated stores.
Robinson can recall the elation of his first sale.
"I sat down and had lunch with a retailer up north, a little independent, and two and a half hours later I rang Brett and said 'right, we're under way. I've got an order and it's three units'."
Within two weeks the first shipment had sold out and nine months later Dyson was the number one selling brand by value in the country.
In some respects the pair had a foot in the door, with inside knowledge of appliance retailing.
Not only had Robinson worked in the sector but they appointed their fathers, Sir Noel Robinson and Ron Avery, as external directors to provide an independent sounding board.
As the nephew of Fisher & Paykel co-founder the late Woolf Fisher, and former owner of appliance maker Robinson Industries, Sir Noel had some good contacts and insights for the duo.
Avery says it has been vital for the business to have people who are independent from the day-to-day running of the company to test ideas on.
While the two say the retail landscape hasn't changed a lot since they began in 1997, with many of the same people and relationships still in place, the Dyson products certainly have.
Their first sales were the DC01 and DC02 models; the current model on the shop floor is the DC41.
Dyson employ 750 engineers, resulting not just in the constant evolution of its vacuum cleaners, but also the introduction of new products - hand dryers, fans, heaters and hand-held vacuum cleaners.
"For us, as a distributor, even though we only do the one brand the new product categories that have come on board have added to the business greatly," says Robinson.
New Zealanders spend $52 million on vacuum cleaners and related products each year and Dyson is still the number one brand by value, holding 24 per cent of the market.
Avery says the company expanded its sales team in 2010, bringing its total headcount to 19, and the investment has paid off in the weak retail environment.
He says consumers are more cautious about their spending but that has meant they are more likely to do their research and buy a quality product.
"People are over paying good money for bad products," says Robinson.
The pair credit their strong partnership for their success.
And their very supportive wives, adds Robinson.
After 15 years it has lasted longer than many marriages, something they put down to trust, loyalty, consultation and very few arguments.
"I don't think we would have had more than one or two to be fair, and even at the end of those we'll go 'OK, we've had that discussion, let's go and have a beer' and that's it and it's over," says Robinson. "Everything has always been very open and transparent between the two of us."