In six years, childcare company has gone from part-time venture to 35 staff.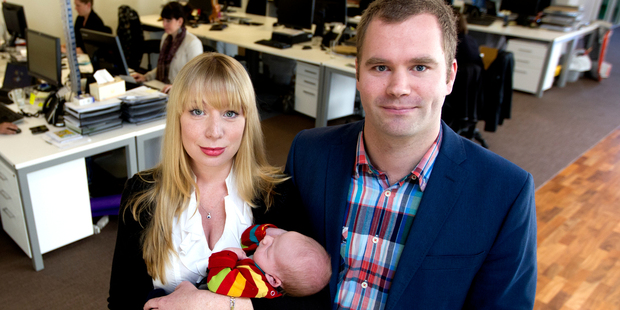 Baby Thomas is less than a month old but mum Cecilia Robinson is already scanning the listings at her Au Pair Link business for the perfect person to help care for him.
Her superstitious business partner and husband, James Robinson, had forbidden her to study Au Pair Link's database until Thomas, their first child, was born this month.
Finding the right au pair is essential for Cecilia's return to work, part-time at first, early in the New Year.
The company that matches au pairs (live-in nannies from overseas) with New Zealand families has seen extraordinary growth since Cecilia founded it nearly six years ago.
By the end of this year some 1000 au pairs will be on Au Pair Link's books. That's up 600 per cent on the number of au pairs placed with New Zealand families in 2009 and puts it in the top 5 per cent of au pair agencies in the world.
James says the company aims to become the third largest home-based early childhood care provider in New Zealand, behind Porse and Barnardos, by the end of the year - "a very realistic goal".
In time Au Pair Link's goal is to be the largest au pair agency in the world, and eventually the largest home-based provider in New Zealand, says James.
The recession hasn't dented the company's growth, he says.
"In fact our business has really been going from strength to strength as a result of the affordability of the concept. It's dedicated one-on-one childcare but still so affordable."
Having three children under 5 in daycare or with a nanny could cost up to $800 a week, while an au pair with an early childhood qualification would come to $300, excluding PAYE tax.
Assistance with older children or babies starts at $120 a week.
On top of the au pair's wages, and tax, clients must provide a room and meals, pay a $900 enrolment fee and a completion bonus when the au pair's contract finishes.
The real game changer for Au Pair Link came in 2009 when it became a Ministry of Education licensed home-based early childhood provider, says James.
Although it was a significant process to go through, it means parents can get access to the 20 hours of government-subsidised early childhood education funding.
"It meant that au pairs, which were traditionally perceived as a more informal type of childcare, were actually supported by fully qualified teachers to teach a curriculum and provide resources to families," he says.
While Au Pair Link is an early childhood business, it also operates in the youth work and travel market, forming a partnership with STA Travel to promote its au pair programme.
Strong overseas links, including membership of the International Au Pair Association, are vital for sourcing au pairs from a range of countries and running the required police, character and health checks.
"Having really good partners is really important because you can generate as much awareness in New Zealand as you like and host families can be really keen to get an au pair but if you don't have the au pairs and the supply it means nothing," says James.
The couple also recognised early on that they needed to invest in the right people to help the company grow.
"They always say: employ people who are smarter than you, and I firmly believe that," says Cecilia.
Au Pair Link began as a part-time venture while Cecilia was studying law, but within a year it had 10 staff and now has 35, including a general manager.
They have created an advisory board made up of former Telecom head Theresa Gattung and Lee Mathias, deputy chair of the Auckland District Health Board, a move Cecilia says has had a huge impact.
"They taught us a lot about business and about what is really important for a business."
Cecilia approached Gattung after hearing her speak at a function several years ago. Gattung was interested in helping the fledgling company but wanted to be involved as part of the advisory board, preferring to see all the numbers and have complete disclosure, rather than being a mentor.
Cecilia says she loves Gattung's ability to cut straight to the important issues, even though she has no experience in the early childhood business, nor any children herself.
"Theresa and Lee have really stretched us as business people and continue to challenge us and make us think outside the box," Cecilia says.
For now it is wee Thomas occupying his parents' time as they adjust to parenthood.
"I've just been a mum now for two weeks, so it's still early days yet, but it's really important that women, in particular. embrace opportunities, whether it's in their personal life or in their career," says Cecilia. "You can have a family and a successful career. It's completely doable to do both."