Former competitors collaborate on their distinctive range of cheeses, yoghurts.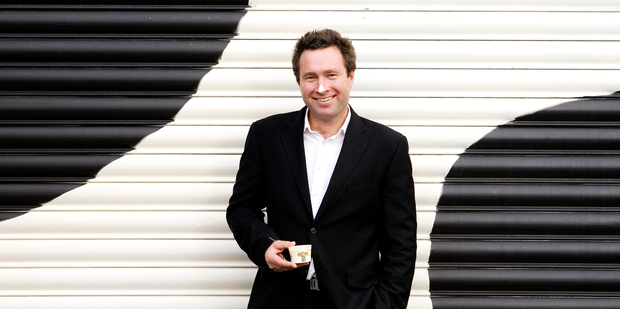 Success in the food business isn't just about getting a great product on the shelves - it's also down to slick marketing and a great brand, says the co-founder of Epicurean Dairy, Angus Allan.
"If you want to build a business out of something that is special you have to have a bloody good product in the first place and, secondly, you have to have a really good brand behind it," he says.
Months were spent creating the award-winning logo and the "great dairy, no bull" tagline for the company's yoghurt and cheese brand, The Collective.
Social media is used extensively, posting on Facebook, Twitter, Pinterest, YouTube and Instagram to spread the message.
Its engagement with "the herd" is up there with the best, as recognised this year when it ranked 57th on the global Social Brands 100 list, beating the likes of Google, Dell and Estee Lauder.
Allan and his business partner Ofer Shenhav both worked as chefs before establishing food businesses, Naked Organics and Pitango respectively.
The former competitors became collaborators at The Collective after they sold their companies and were looking around for new opportunities.
Restraint of trade agreements stopped them diving back into chilled soups, meals and dips, and after working for three years at LHF, the division of Sanitarium that bought Naked Organics, Allan didn't want to go head-to-head with his former employer.
He and Shenhav took a stake in Canaan Cheese, a small, family-owned business with a good reputation for producing artisan dairy products, including haloumi cheese, which was struggling under debt.
Allan says the food business is very capital hungry and you can quickly run out of money - a lesson he learned the hard way with Naked Organics - so they have worked to ensure it is well capitalised.
"Smaller businesses, they're always tough, you're always scraping for a dollar and it's very hard to focus on growing and having fun and marketing and all that when someone's ringing you up about paying your bills."
After buying Canaan Cheese outright in late 2009, the pair introduced the Collective range of cheeses and yoghurts in 2010.
It was a huge risk, with neither having any experience producing such a finicky product. Allan says many nights were spent at the factory waiting for the yoghurt to finish incubation at 4am.
The first range of yoghurts exploded on to the market - literally - with tubs blowing up on the supermarket shelf.
"That's just part of the dairy industry. It's a very, very sensitive product so you've got to be very, very, very careful. We had a plant that couldn't keep up and we invested heavily straight after that. Since then, touch wood, we haven't had any issues at all, but it wasn't a great start."
It was an inauspicious beginning but the company hasn't looked back.
After toiling away at Naked Organics without ever achieving much scale Allan knew how hard it was to be a niche business.
By mid-2010 they were already looking to grow the company into markets outside New Zealand.
The Collective yoghurts don't travel well, so going overseas meant establishing joint ventures.
A little over 12 months ago The Collective nailed a deal with Mike Hodgson and Amelia Harvey, former directors of dessert company Gü, and a range of yoghurts now sell in 1300 British supermarkets and food stores.
It's not the only part of the business based overseas.
Shenhav now lives in Israel, focusing on business strategy, with Allan running things day-to-day.
Allan says the two speak to each other every couple of days and the partnership works brilliantly.
"We probably see each other five, six, seven times a year with the travel. I probably see him more than I see some of my best mates."
The pair have big ambitions for the company, with a goal to have global sales of $200 million by 2016.
Revenue growth of 250 per cent saw the company come in at 28th place on the Deloitte Fast 50 list last year and the Avondale-based operation now employs 50 people.
"That's not the aspirational goal. The aspirational goal is to build a global brand, really. We want to be having this brand in as many countries as we can."