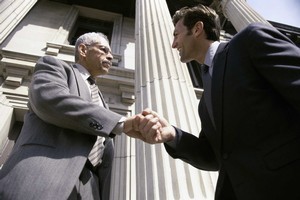 Marketing consultant Graham McGregor on two key critical areas our customers judge us on.
As a professional speaker I have been taught that there are two critical parts to a speech. These are the beginning and the end. Any audience will usually remember best what comes first in a speech and what comes last in a speech. For this reason all speakers know to plan these two parts of the presentation very carefully.
In business the same principle applies.
Customers usually remember what happens in the first interaction with any organisation and also the last interaction that happens with any organisation.
This can influence you positively or negatively about any organisation.
Example 1:
Many years ago I used to live in a small flat in the inner city. I had a fruit shop just down the road from my flat. The fruit was always fresh, presented beautifully and looked great.
I had a very unfortunate first interaction with this shop. I walked in and asked for half a dozen apples. The person serving me put a paper bag on the scales and began dropping the apples into the bag very roughly. I was a bit concerned about my apples being bruised so I asked politely if they would mind being a bit more careful with them. I was then shouted at and told off for complaining. How many times do you think I went back?
That's right, I never went back.
This is an extreme example I know. It does illustrate the impact that one negative first experience can have on a customer. (And I still remember it over 30 years later.)
Example 2:
I purchased an eiderdown from a company and went to pick it up. As I paid for it and was getting ready to leave the sales lady who served me stopped and carefully passed me the duvet. "This is one of the most popular eiderdowns we sell" she said. "You will sleep like a baby with it. Thank you for your business".
This was the last interaction that I experienced with this company and do you think I felt positive? Of course I did. I had been told I had made a good purchase and thanked for my business. I have never used this company before and now I know I will go back. All from one positive last impression.
Example 3:
Paddy Lunn is an incredibly successful Australian dentist. When you visit Paddy's dental office he has a fresh cappuccino machine in the waiting room for you to use. You know the room you will be receiving treatment in because it has your name on it!
There is a sign that reads "This room prepared especially for John Smith. His customers often comment on what a great experience it is coming into his dental practise and Paddy has positively differentiated his business again from his competitors.
Example 4:
Carl Sewell runs the largest and most successful Cadillac dealership in the United States. Carl makes sure that the rest rooms in his dealerships are immaculate. He uses wall paper that costs $250 a roll on the walls. His floor tiles are exceptionally high gloss so they stay clean. They are washed every hour on the hour. His customers often comment on what an amazing experience it was going into his rest rooms and Carl has made a positive impression on his customers.
Action Exercise:
Write down what typically is a first and last interaction with one of your customers. Write down 3 things you can do to make these more enjoyable for the customer.
Use one or more of these this week.
"You never get a second chance to make a first impression"
Graham McGregor is a marketing consultant and the creator of the 396 page 'Unfair Business Advantage Report.'
www.theunfairbusinessadvantage.com
(This is free and has now been read by business owners from 11 countries.) You can email Graham on graham@twomac.co.nz