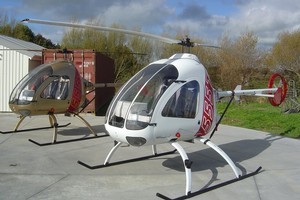 Going from earthworks contractor to helicopter maker may seem an unlikely career change - but that's what Dick Sybrandy has done.
The former excavation specialist says his 10-month-old company, Taranaki-based Ultrasport Helicopters NZ, is about to gain Civil Aviation Authority approval to sell its mostly New Zealand-made choppers.
Sybrandy said three helicopters had been built by his firm so far and Europeans had put up deposits for two of them.
Sybrandy said each machine needed 40 hours of test flying to be certified and he expected this to be completed within three weeks.
The helicopters will sell for about $180,000 - about half the price of a Robinson R22, he says.
Sybrandy says the firm's two-seater aircraft have a ceiling of 10,000ft and can reach speeds of almost 170km/h.
Nearly 80 per cent of the manufacturing was done here, he said, and 14 local companies were involved in the process.
The rotor blades and 160 horsepower turbine engine were made in the United States.
Sybrandy said pilots of the Ultrasport helicopters would need only a microlight licence with a helicopter endorsement, which would take about 50 hours of training to obtain.
Such a licence did not yet exist in New Zealand, he said, adding that his firm was working with CAA to develop one.
Sybrandy said the authority had given Ultrasport Helicopters an exemption for test flights.
Asked about the safety of his company's helicopters, he said: "If you don't overfly the things you'll be fine."
Sybrandy said he got the idea to set up the firm after looking around the world for an ultralight helicopter for himself and seeing "some crucial design flaws" in what was available on the market.
The design of the three Ultrasport helicopters already built was based on that made by a US company in the 1990s, the patent on which had lapsed.
Sybrandy said the crucial difference in his helicopter's design was its powerful turbine engine, which lowered vibration.
"There are less things to go wrong."
Most small helicopters were underpowered and had two-stroke engines, he said.
Sybrandy said his company had trademarked the Ultrasport brand in New Zealand and the US.
The Taranaki-built aircraft should prove popular in this country with high country farmers and recreational users, he said.
There was also an opportunity to supply the tuna fishing industry that used helicopters for spotting fish.
"We can put floats on these helicopters as well, which is part of [the tuna industry's] criteria."
Pilot training and airborne surveillance were also potential uses for the choppers, he said.
Sybrandy said the company would soon be giving demonstration flights at aero clubs.
The firm would need to sell between three and four helicopters a year to be profitable. So far he had provided all the capital - "you could say it's a large amount".