Queenstown Cookie Bar concept will be rolled out with a line of nutritionally balanced products.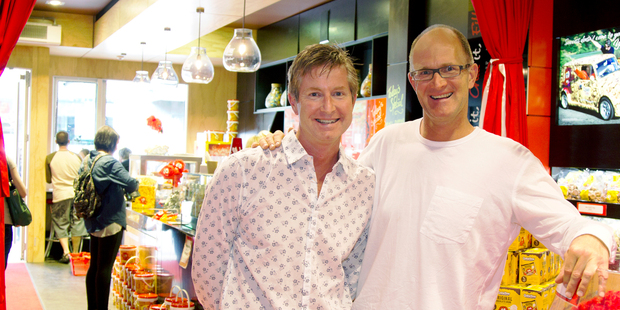 As Christchurch company Cookie Time celebrates its 30th anniversary this month, owners Michael Mayell and Guy Pope-Mayell have expansion plans.
They intend extending the Cookie Bar retail concept nationally and internationally, and will look for more licensing opportunities for their patented One Square Meal brand, which is first in a new class of nutritionally balanced food and beverages.
Cereal and beverages under the OSM brand are also in development.
Mayell, the Cookie Time founder, was 21 and Pope-Mayell 19 and in his second year of university when they began working on the business that was launched in February 1983. They had already been in business together at high school selling refuse bags door-to-door.
"Guy was bored out of his brain [at university] and I was on my own in a business with no one to talk to. We get on very well," says Mayell.
"The entire business was started with $5000 in cash and a $3000 van."
In the early days, unwrapped chocolate chip cookies were delivered to shops in a glass cookie jar.
It was a family affair. Their mother helped make the first batch of cookies, their sister to promote them, and their father, a doctor and property developer, helped financially in the early days when the company was going through growing pains.
The mid-1980s was a good market to start in. "We could afford to make every mistake in the book," says Pope-Mayell.
These days Cookie Time employs 80 staff in management and production and has a turnover of $30 million. The products, which also include Bumper Bar gourmet muesli bars, sell in 6000 New Zealand outlets through about 45 franchises.
At Christmas Mayell employs close to 80 university students to sell buckets of small Christmas Cookies for $15 each.
"Last year we sold over 250,000 buckets of cookies," says Pope-Mayell.
They select students for a three-day conference. "It's like a mini-academy. The experience very much captures the process that we had," he says.
Meanwhile, the launch of the first Cookie Bar in Queenstown has been an important new chapter.
"The concept is you can buy hot cookies and cold milk, or icecream with cookies, milk shakes and a range of packaged cookies and merchandising," says Pope-Mayell.
"It's about entertainment when you walk into that store.
"We are fielding a number of inquiries from Asia - Hong Kong, Malaysia and Japan - for Cookie Bar franchises there," says the entrepreneur. They are also looking at rolling out the concept in places such as Rotorua, Wellington and Auckland.
The past 30 years has not all been smooth. The company did not come out unscathed from the Canterbury earthquakes, although it lost just a week's production.
It made the brothers realise the company was not diversified in terms of production.
It has since spent hundreds of thousands of dollars upgrading its premises 20km southwest of Christchurch at Templeton.
"We were well insured, you have to maintain that. We were well covered. It's one of the benefits of being a medium-sized company and having been around for 30 years," says Mayell. The company is owned equally by the two brothers' family trusts.
As the two men enter their 50s, succession is on the agenda, they say.
Top Tip
Brand is everything. It should be a filter for every decision.
Best business achievement
Cookie Time cookies are included in a Wikipedia entry on Kiwiana, along with Jandals and the All Blacks.