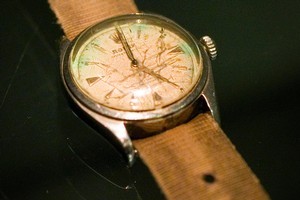 Sir Edmund Hillary's Rolex watch, given to him after he scaled Mt Everest, is on display after his children fought to stop his widow selling it.
Sir Ed's children, Peter and Sarah Hillary, this year stopped his widow, Lady June, from selling at auction treasures he had collected since he and Sherpa Tenzing Norgay conquered Mt Everest on May 29, 1953.
Among the items put up for auction, but stopped by a High Court injunction, was the Rolex Oyster Perpetual presented to Sir Ed soon after he climbed Mt Everest.
The watch has been included in a collection of new artefacts from Sir Ed's life, now behind glass at the Auckland War Memorial Museum.
Sarah Hillary said it was fantastic to have the watch on display.
"Because it is a part of the whole Everest climb, even though he got it after the expedition, because it is a very important part of that story."
Mr Hillary said the watch "just spoke" of his father, given how battered and damaged it was.
"It's been worked very, very hard ... he did boast to me that he had to get it repaired. He was very proud of that, because when they asked, 'how did you damage this?' he said, 'oh, breaking concrete in the garden'. And they told him most of their Rolex owners never had that problem."
The latest additions to the collection, including the jacket and thick woollen socks he wore on his expedition, were "stashed away" under the Hillarys' house before they were uncovered and their value realised.
"I used to raid Dad's crampon collections and take them down to Ruapehu, so we just used stuff. But the thing is, they were just the tools of trade that they used - we didn't really see it as particularly important, it was all about doing the climb.
"It often takes time before you start to see it in a different light," he said.
Also on display is a plank of wood which Sir Ed and Tenzing Norgay used to cross Everest's Khumbu glacier.
Mr Hillary discovered the plank as he was making the same crossing 50 years later and took it back with him.
Also on display is his Hubbard Medal of the National Geographic Society, Order of the Garter, Order of New Zealand and a Weet-Bix Triathlon medal.