Billboard creators are national treasures and ought to be recognised for services to health - making us laugh.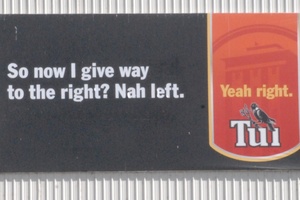 Periodically someone or something is described as a national treasure. It's a lovely accolade which could be added to the awards system. Should that occur then a prime candidate for honours would undoubtedly be the wonderful Tui billboards. Furthermore, if laughter is the best medicine then their creators also deserve recognition for services to public health.
But amidst the laughter, these splendidly iconic billboards inevitably flush out misanthropic sad-sacks, always ready to whine at any jollity and complain, ostensibly on others' behalf.
So it proved with the latest Tui masterpiece; "Dad's new husband seems nice - yeah right" which duly induced a bevy of miserable sods to protest that the message is homophobic, unsurprising as ignorance and wowserism always march in step.
These tragics should obtain a dictionary and look up phobia. Taking the mickey out of fairydom hardly constitutes an innate fear or aversion, indeed it's the opposite. Good Lord, homosexuality is now in, as Maurice Williamson discovered after copping worldwide adulation for publicly coming out.
Mind you, this was unfortunate for Hamish Keith who for 12 years has toiled away at what was to be his literary swansong; the 10 volumes Life and Times of Maurice Williamson. Maurice's outburst has now killed its major revelation selling point.
On reading these complaints I rang a homosexual barrister friend. He thought the billboard hilarious and said so would all his homosexual acquaintances. Likewise with the funny Dotcom billboard, "She married him for his body - yeah right". This brought out the predictable whiners, complaining it ridiculed the obese. Frankly they're getting off lightly with mere mockery for if the police had any gumption they would charge them with offensive behaviour whenever they waddled out in public.
Back in 1974, I erected a massive billboard on a Wellington building proclaiming "Mat Rata reads comics". Mat did read comics, indeed the following year after the change of government, new minister Venn Young took over Mat's ministerial residence and rang me to advise the wardrobes were stacked with them.
Not long afterwards Mat popped in for a drink or three and told me about the day the sign appeared. Arriving in his office his ashen-faced secretary said the Prime Minister wanted to see him urgently and seemed very angry.
It transpired that Norman Kirk, a wowser of exceptional proportions, had driven past the sign that morning. Mat said he raved at him in a demented fashion as if he had personally put the sign up, despite this being the first he had heard of it. For his part Mat couldn't give a damn.
In our golden 1980s cricket era, overlooking the Basin Reserve was a car yard owned by a very funny bloke named Chris Stevenson. If going to the cricket one could park there subject to putting in some siren duty, now part of our cricket lore. Whenever New Zealand took a wicket, or if batting, hit a boundary, off went the siren, which years earlier had been "borrowed" from the army.
Chris erected on his site a huge sign, a forerunner of the Tui billboards which everyone driving to the airport couldn't miss, and for years, outrageous political witticisms would be displayed.
Subsequently they were published in book form. As the goose wasting his time with his pretend Conservative Party was repeatedly reminded a week back, if you want to go into politics then acquire a thick skin and learn to laugh at yourself. Mind you, that applies to us all.
The ultra-sensitivity enshrined in law in recent years throughout the Western world is over the top, particularly on race matters. God help us should we become like Britain. The week our wowser-set burst into their dirge over the Tui billboard, a Pom visiting Wales was arrested for disorderly behaviour. He was additionally charged and fined £150 ($273) for racism after back at the station calling a Welsh policeman a sheep-shagger. The English have teased the Welsh with that claim for yonkers, just as the Aussies have us. Do we care, aside from which it's true, as Federated Farmers will confirm, our sheep farmers considering it a compensatory benefit for perpetually falling wool and lamb prices. They're all at it, all the time.
Ask them if you doubt me.
Similarly, in 2011, when an English postman was fined £3500 for racism for describing Andy Murray as a useless Jock. Murray is anything but useless but he is a Jock, just as the Welsh have always been Taffy and the Irish Paddy, without offence meant or taken.
But now it's a serious crime in Britain. It's pathetic. Do we still teach our children the old rhyme, sticks and stones may break my bones but names will never hurt me? It's overdue to bang these constant offence-takers into special schools to chant that ditty until they're finally cured.
Debate on this article is now closed.