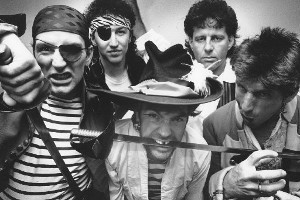 While the New Zealand Music Award finalists announcement starts off the countdown to early November, our local awards season shifts gets into gear next week with, the Apra Silver Scroll.
Being held at the Auckland Town Hall on September 13, the prestigious awards are aimed squarely at songwriters, recognising the best song of the year, as voted by more than 7500 Apra members, along with the Sounz Contemporary Award (for contemporary classical composition) and the Apra Maioha Award (for contemporary Maori composition).
Somewhat presciently (given their swag of NZMA nominations and awards this year) last year's winning act was The Naked and Famous for their number one hit, Young Blood.
This year's top five finalists are a diverse bunch - Jon Toogood and Ladi6 collaborated under the band name The Adults to produce the propulsive Nothing To Lose; Annabel Alpers, aka Bachelorette, impressed with her dark, electronic-based pop song Blanket; Avalanche City's catchy number one single Love Love Love infiltrated our TVs and hearts; southern alt-country bluesman Delaney Davidson got a little rootsy on Little Heart; and former Mint Chick Ruban Nielson is a finalist for a fourth time, this year under the moniker Unknown Mortal Orchestra (his Portland-based three-piece) for the slightly loopy number Ffunny Ffriends.
These five songs will be performed by five entirely different bands or artists on the night, under the musical direction of Karl Steven.
The Silver Scroll Awards evening will also see another influential band inducted into the NZ Music Hall Of Fame. Along with Dragon (who will be inducted as NZ Herald Legacy Award Winners at the November awards) Apra announced this week that Hello Sailor will be honoured.
Having written an array of timeless Kiwi classics like Gutter Black (which was later revived as the theme tune to Outrageous Fortune) and Blue Lady, they had punters lining up outside venues around the country in their heyday and were popular for their insight into street-level frustrations of life in New Zealand.
-TimeOut