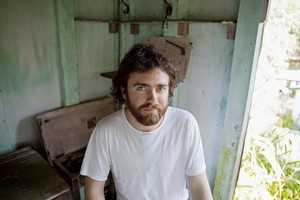 Liam Finn's 2008 album I'll Be Lightning not only proved the prodigal son was an iconic solo muso in his own right, it was also jolly likeable.
For the past three years young Finn has been working to one-up himself. Not an easy task when I'll Be Lightning was not only chipper and effortlessly melodic but also tingled the tastebuds of those who listened carefully.
In order to create a new set of heart-thumping, throat-lumping, affecting songs, Finn headed deeper within himself, daring to expose his frustrations, disappointments and most notably, his deep-set "Fear of Missing Out", a debilitating condition that kids these days commonly shorten to the acronym, Fomo.
Although lyrics might suggest that, sitting in little windswept New Zealand, Finn is developing a fear of missing out on the big wide world, his songs suggest he has not missed out on a full, worldly life thus far.
An album as tumultuous and stab-in-the-guts poignant as Fomo can only be born out of a stream of life's hurdles. And in cramming love, lust and loneliness (as well as a little looniness) into a tightly packaged 10 songs spanning just 36 minutes, Finn
has been forced to abandon some of the laid-back abandon of his very accessible debut album.
While Fomo will still appeal to fans of folky pop, it tampers with its rhythms and harmonies, and moving in waves of mirth and moroseness, packs more of a punch than I'll Be Lightning.
The opener, Neurotic World, is the first example of Finn's ability to construct complex orchestrations that sound airy, even lonely. Then, starting the album's undulating pattern which pairs one ballad with one wilder tune, he moves into the pacy track Don't Even Know Your Name, one of the catchiest songs on the album.
He pits his friendly, bearded folk-man-with-smiling-eyes folk vocals against angry guitars, evolving into a moaning Nick Cave-like crooner in Roll of The Eye but drops the act for Cold Feet, an inoffensive bouncy 1960s-inspired pop tune, which runs a simple love story over simple melodies.
Then he lolls about in Barry White-style seduction for Real Late, which could have been a fairly unimaginative tune if it wasn't for all the wild percussion and squarks Finn tosses at the tune with wild abandon.
Abandoning his cool, calm and collected personality for The Struggle Finn plunges his listeners into his disturbing dream, screaming "don't blame it on the devil". But in Little Words, he is distracted by his angst. "The ants are crawling on my computer," he trills.
He indulges in pop-punk for Reckless, again ensuring it sits just on the cusp of mainstream, its bruised harmonies cementing it as more "indie" than "in" and he tops the stellar effort of with the plodding, yet somehow spacy Chase the Seasons and wild, aptly titled finale Jump Your Bones.
As challenging as it is comforting, Fomo is the kind of album that you can indulge in in the comfort of your warm, safe home this winter without worrying about missing out on what everyone is doing.
Stars: 4/5
Verdict: Another iconic, symphonic Finn release
Buy Fomo