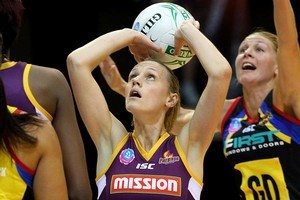 Travel could be the difference between NZ and Australian franchise success in netball, writes Michael Burgess.
Natalie Medhurst has been home just twice in the past seven months. The Firebirds star, crowned joint MVP of the ANZ Championship, has lived in Brisbane since December while her husband Travis remained home in Adelaide.
They caught up once when Medhurst's Queensland team played in Adelaide; and when Medhurst was flown there to be a guest commentator at a Thunderbirds game during a bye.
Meanwhile, Steel defender Leana de Bruin (the other recipient of the MVP award), clocked up over 3000km every week flying from her home in Cambridge to Invercargill and back again. The Silver Fern star would typically arrive two days before a match, attend one pre-game training session and head north the day after the game.
This shows the different approaches on either side of the Tasman. While the large distances in Australia offer some geographical constraints, teams there expect players to relocate; to attend all team trainings and other activities.
In New Zealand, there is more flexibility. Franchises are less inclined to demand that a player takes up residence in their city.
Irene van Dyk has been commuting from Wellington to Hamilton for years; Magic team-mate Frances Solia has taken the same journey since 2009. Tauranga-based Mystics coach Debbie Fuller flies over 400km every week, while Tactix star Donna Wilkins lives near Gore, travelling to Christchurch for training and games.
Medhurst says the enforced separation from her new husband has been "extremely difficult" but necessary.
"It is about having that commitment," Medhurst told the Herald on Sunday. "If you want to play at this level and be successful, that is the sort of commitment you need to have. I think it is absolutely crucial to train together. When you have people flying in and out - we had that situation for a while with April Lynn [a temporary replacement for injured captain Lauren Nourse] who would fly in for one session and stay on for the game - it was a bit disruptive. It is very difficult to work on different scenarios and develop your combinations and those kind of things."
The Firebirds have six to eight sessions a week, typical of most Australian sides. The Magic are at the other end of the scale. With their players scattered around the North Island, they come together as a team for just two sessions - one evening and then the following morning - either in Tauranga, Te Awamutu and Hamilton.
At all other times, they train in regional clusters. Van Dyk and Solia train together in Wellington; Laura Langman, Jess Tuki and Casey Williams in Hamilton; Sulu-Tone Fitzpatrick forms her own cluster in Auckland; and the remaining six members of the squad get together in the Bay of Plenty.
There is a perfectly reasonable argument that the Magic are a successful team, even though an ANZ title has eluded them, but Medhurst says: "I wouldn't want to be a player doing that. It is good to have a pretty settled team and regular contact with each other.
"It would be a bit disruptive if you have people coming in and out and you are not sure who is there. You can train certain things by yourself - like weights - but all of our on court sessions were very thorough and that played a huge role in how we finished the season."
Advocates of the Magic's approach say it is the most practical solution for a disparate team; they say it keeps the the players fresh, especially the Silver Ferns who have long international campaigns as well. They also mention the Magic's two grand final appearances, as well as two preliminary finals, in the past four years.
But others wonder how much more they could have achieved. All of those linkages, cohesion, knowing instinctively what your team-mate is going to do next - the 'invisible thread' as Lois Muir likes to call it - how can that evolve when players are mostly not together?
"The players seem happy enough but it certainly doesn't seem to be the ideal environment to foster high performance in the truest sense," says one netball insider who did not want to be named.
De Bruin says her situation offered a great balance and a drive to perform. She was completely focused on netball when she was in the deep south. Her baby was back in Cambridge and "all I had to worry about was the game". She was aware of some frustration in the team. Some of her team-mates didn't necessarily want to live in Invercargill but were not offered a similar chance to commute.
"I felt guilty sometimes, as I knew the girls were working hard without me. It made me doubly determined to perform."
While the Steel had a disappointing season, de Bruin was in the top two across the competition for defensive rebounds, deflections and intercepts. She did find the constant travel tiring and said it was hard when flights were delayed.
In Australia, a notable exception to the strict residential policy was made last year for Bianca Giteau, wife of Wallaby first five-eighth Matt. As they married in December, the Thunderbirds allowed her to live in Canberra and fly into Adelaide for the latter part of each week.
Giteau, the sister of AFL star Lance 'Buddy' Franklin, was required to attend Wednesday and Friday training and fulfil all team and media commitments.
"As a general policy, we definitely want them living here," says Thunderbirds operations manager Katie Redding. "Bianca was a special case and she was quite up-front from the start." Redding says the rest of the team had "no issues" with the situation, though the Adelaide team struggled on and off the court this season.
ANZ Championship CEO Anthony Everard says while they would prefer that the majority of players live in their franchise area - as it helps with engagement with fans, media, sponsors and the community - it is up to the discretion of the franchises. The competition allows A$4000 ($5249) in relocation expenses per player.
"In New Zealand, there has always been a need to accommodate different situations," says Tim Lythe of the New Zealand Netball Players Association. "It is crucial that it has to work for both the player and the franchise and it should always be an ongoing option."
In terms of wages, netball remains a semi-professional sport. Most players have to hold down some form of employment outside the game, and in theory New Zealand franchises are not allowed to hold training, media or promotional sessions between 9am and 5pm.