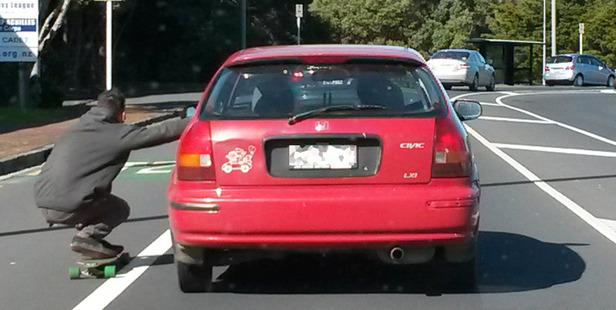 Spotted on Saturday morning on a busy Tamaki Drive.
Caught short on way home from pub
Jack Watson, of Pukekohe, writes: "In the late 1950s and 1960s I subscribed to the English magazine Motor Sport, which had lively correspondence pages. One contributor told of his experience on the way home from a country pub. The wife simply had to go, and they stopped while she retired with modest grace behind a roadside bush. The husband turned on the car radio to listen to a play. In those days radios took a few seconds to warm up. When it did, a voice suddenly roared, 'I see what you're doing, come out at once!' The wife leaped up, wet herself, tripped over her pants, and fell on her face in the grass."
White lies Kiwi kids were told
1. Sidney Turnbull, of Katikati, writes: "Back in the 1950s, we had a very good vegetable garden in 'breezy' old Wellington and spinach and silverbeet really flourished. Grandma told my two brothers and me that if we ate it all up it would 'put lead in our pencil', so naturally we obeyed. Much later, in my teenage years, I began to grasp what she must have meant."
2. "Five-year-old watching the weather report on TV asked how they tell how many knots it is blowing," writes a reader.
"Older daughter explains that outside the weather office they tie a string to the clothesline and every night before the weather they go out and count how many knots are in the string."
Woman should head to drama school
A reader writes: "Yesterday I was stopped by a young distressed woman in Meadowbank Countdown car park pleading poverty, with small kids to feed and a husband who'd just left them. I gave her some money, as did other passersby. Ten minutes later I drove out on to the main road to see this same woman hauling two large bags of wine and beer with a fag hanging from her lips on to the bonnet of her clunker of a car outside our local wine shop. I was gutted for all of us who believed and gave."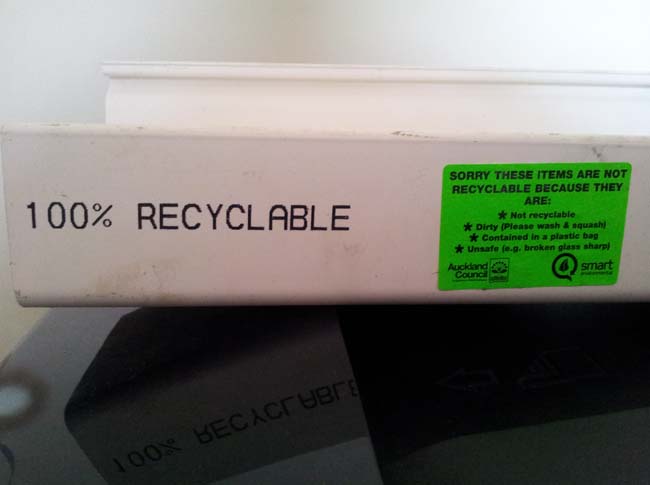 Recycling the recycling
A reader writes: "I placed a half dozen off-cuts from my new guttering into the recycling bin. When I got home I found the pieces still there with an attached sticker saying they were not picked up as they were not recyclable. That's despite the manufacturer clearly stamping 100 per cent recyclable on each one."
Picture this: "We were asked to look after our friend's 6 month old. Sent them these hourly updates."
Nostalgia: The 90s in summed up in one illustration...
Grossest Thing Ever: Cat Litterbox Cake...
Video: Tired. A short film about a tyre...
Herald app users click here for today's video.
Got a Sideswipe? Send your pictures, links and anecdotes to Ana at ana.samways@nzherald.co.nz