The creek we hope we are never up.
Bedtime stories
Questionable advice from a medical book from the early 1900s called Medicology on what to do if you are wanting to conceive a boy: "The husband should partake of good substantial food. Exercise in open air; indulge in light literature; keep up a glow of spirits; abstain from indulgence for a short time previous to the procreative period. During this period the wife should abstain from animal foods, living mostly on vegetables and farinaceous articles of diet; exercise daily to almost fatigue, and pass a portion of her time with females older than herself ..." And for those wanting a girl? "Exactly the opposite course should be pursued - the woman should indulge in the most stimulating food - but should not indulge her passions, reserving her whole vigour for the desired time. The male should indulge in violent physical exercise to fatigue, and morning and night take sitz baths of cold rock-salt water." (Source: Death &Taxes)
White Lies We Were Told as Kids
1. A reader writes: "My mum used to threaten me with 'Rosie's Home', the home for bad girls (anyone who grew up in Glasgow in the 70s will know this one). She would make fake phonecalls to Rosie asking her to come and take me away. She went as far as ringing the doorbell one day and having a fake conversation, going, 'Okay, Rosie, I'll give her one more chance'. My dad drove me to a horrible factory one day to show me Rosie's Home. I wasn't even that bad. Just talking back and stuff."
2. "I would sometimes ask my mother what she was doing," writes a reader. "Her reply to me was often the same. (Making a wigwam for a goose's bridle.) It wasn't until a few years later I realised what she meant. (It's got nothing to do with you so don't ask.)"
3. "In the days before auto-cancelling, my dad told the four of us kids that if we spotted a car with an indicator inadvertently left on, the globally recognised signal to alert the driver was to poke your arm out the window and open and close your hand at him or her," writes Eric Wolters. "The errant indicator usually stayed on and I still wonder what those drivers thought we were trying to say. Stop gabbing perhaps?"
4. As a small child Robyn was intrigued by the gold fillings in her grandfather's teeth. "Asking him how he got gold teeth he said he cleaned his choppers every day, and if I did the same I would also have gold in my teeth. Alas, after many years of scrupulous brushing the gold never appeared!"
Young and stupid
Three teens, aged 13-15, were charged with attempted burglary in St Petersburg, Florida, when, as they were trying the doors of parked cars, they inattentively opened the door of an unmarked police vehicle with two detectives inside.
(Source: Weird Universe)
Statue Selfie (via Tastefully Offensive).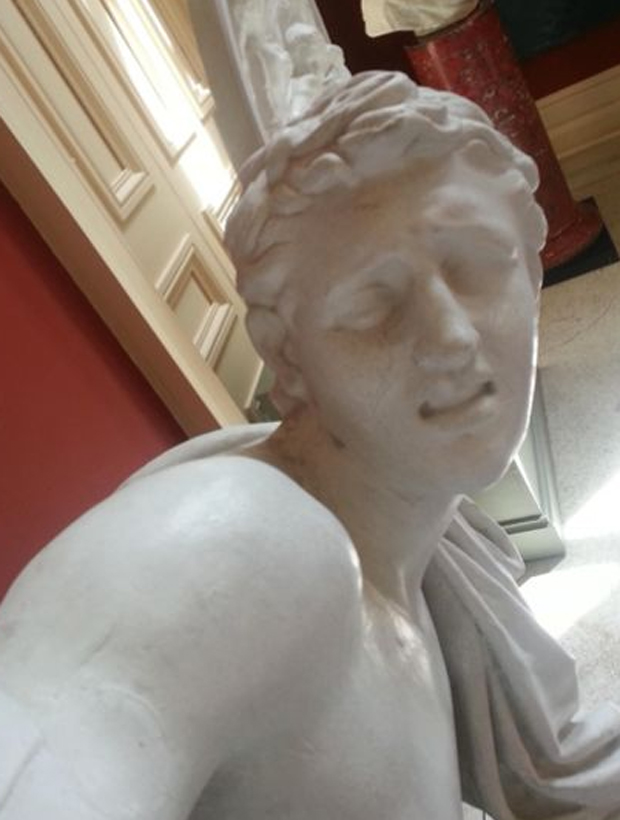 Video: A 60 watt, handblown lightbulb made by Shelby Electric Company in 1901 has been burning continuously over a century at the fire station in Livermore, California...
Picture this: The most breath-taking trees in the world aren't all technically trees, but this is a lovely collection of impressive living things, including a 125+ Year Old Rhododendron "Tree" In Canada, weather beaten trees of Slope Point, New Zealand and the umbrella-like Dragonblood Trees in Yemen...
Innovation: You don't need a house, you need a Soulbox...
Video: Even if you don't agree with the content, you have to give this satirical song (Planet Key) kudos for its creative swagger...

Planet Key is written and performed by Darren Watson. The video was created by Jeremy Jones from Propeller Motion.
Herald app users click here for today's video.
Got a Sideswipe? Send your pictures, links and anecdotes to Ana at ana.samways@nzherald.co.nz