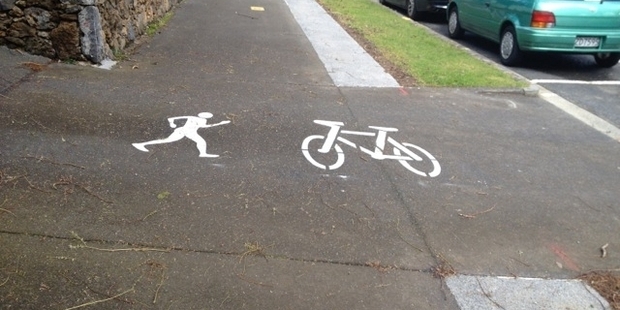 A Mt Eden reader writes: "Step 1: Take a large amount of ratepayer money and widen the footpath by a small amount. Step 2: Paint icons on the footpath and call it a cycle lane - this step is very important because it forces the cyclists to share the footpath with the 650-plus children from the primary school on the same route AND forces the children to walk as close as possible to the many blind driveway/garage exits. Step 3: Sit back and watch the carnage ... PS: Valley Rd is quite steep so cyclists can build up a good speed."
White Lies I Was Told As A Child
1. Jocelyn told her kids that the childproof lock lids on the medicine bottles could sense if you were an adult. "Hence why we could open them and they couldn't - worked for years."
2. Paula writes: "My mother told my sister and I that if we used tampons as opposed to pads (this was 1958) they would "get lost" in our bodies. I imagined them coming out my mouth or ears! (Her other gem was that if we swallowed fruit pips they would end up in our appendix and we would get appendicitis.)
3. "When I was small my grandfather always explained his baldness was due to being on top of a mountain and the wind blowing his hair off," writes Jay. "He then would state maybe he should get some chicken feathers and glue as replacement hair. I would always reply with a wide-eyed, horrified 'No, no Grandad'."
4. "My dad, when I asked, told me that when two trains needed to pass each other, they'd each go on to one half of the track," writes Helene. "I believed this until I was 13 at boarding school and had to take the train home."
Why the packagers think big
There are very good reasons why small items have generous packaging (as pictured in Friday's Sideswipe), writes Tanya Abbott from L' Oreal. "All manufacturers have to comply with the European Packaging standards which include ingredient listing labelling," she says. "Packing is also designed to provide protection during transportation from sunlight and temperature change to ensure the product reaches the consumer in best condition. Consumers are interested in product benefits and ingredients and the packaging is designed to carry this information which is very useful to them in the self-select aisles of supermarkets. Finally, the packaging assists the retailer in preventing theft of small but high-value items."
Brad and Claire were amused by their daughter last Christmas: "Eva, 7, was in big trouble after I discovered she had eaten the entire month of her brother's Advent calendar (leaving her own untouched). After she had been sent in disgrace to her room, I found this note slipped under her door. We laughed so much."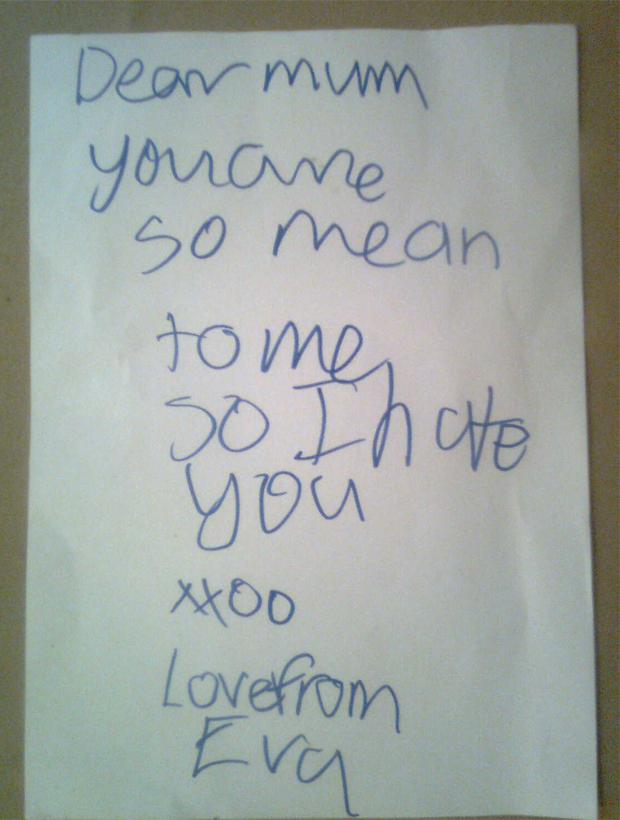 Fail: A Photoshop fail where ASOS forgets to Photoshop a model's other boob turns out to be an Internet fail...
Video: Touting it as their most stylish and advanced beauty product to date, officials from global cosmetics brand Maybelline unveiled Thursday the Ideal-Woman Rubber Mask, a flexible facial covering that can be worn over the head in lieu of make-up...
Picture this: The Naked Man Orchid looks like you'd expect ...
Maps: Where in the world are you most likely to be a victim of a natural disaster?
Video: A compilation of clips from various workplace harassment videos show that on-the-job jokes are "No Laughing Matter."
Herald app users click here for today's video.
Got a Sideswipe? Send your pictures, links and anecdotes to Ana at ana.samways@nzherald.co.nz