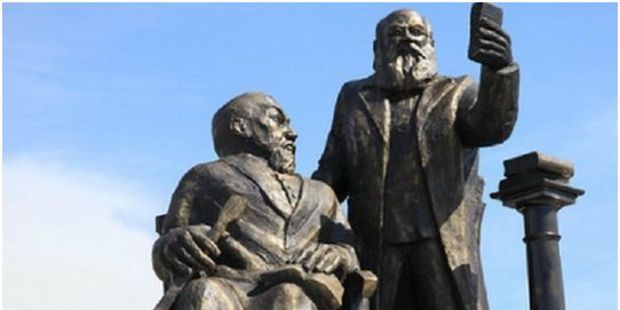 A new monument in Kazakhstan has been removed after locals said it looked like hobbits taking a selfie. The statue was built to honour 19th century figures Abay Kunanbayev, a local writer and thinker, and Yevgeny Mikhaelis, a Russian scientist and pro-democracy activist exiled to eastern Kazakhstan. One of the sculptors admitted it wasn't right and said they were on a tight deadline. (BBC.co.uk)
Rush hour aggravates anxiety
A New Jersey woman is making her case in court against a former employer, reports the Courier-Post. Andrea DeGerolamo worked for Fulton Financial in 2012 when she "began to feel great anxiety and depression, which was especially aggravated by crowded roadways experienced during the heavy traffic of rush hour". The anxiety was so severe it qualified her as being disabled, says the suit. (Source: Newser.com)
Alarm has plenty of life in it
A reader writes: "Wilson Parking manages the carpark across the road from our apartment which is owned by St Matthew-in-the-city church. The carpark runs between Hobson St and Federal St, with an entrance on Hobson. The other night about 6, two alarms went off in their carpark, a loud, piercing high-pitched shriek. We could hear it in every room of our apartment. I called Auckland Council's noise control at 7.30pm. They sent someone out and told me to ring back if it was still going in an hour. I rang back at 8.40 ... 'Try First Security, who do security for Wilson Parking,' they said. They were very helpful and put me through to Wilson's after-hours number. I got someone from Wilson on the phone, and at 10.30pm they finally came and turned the alarm off. It went off again at 8.30 the next morning. I called Wilson, and they said they were aware of it and were sending someone out - they told me the alarm was to deter loiterers hanging out by the City Mission, next door. Classy. I called back at 11am [it's still going] ... 'We'll send someone out right away'. I went over to have a look at noon, and a Wilson person was driving round the carpark, checking the alarms. He told me the alarm was faulty. Wow, really? The alarm was turned off at 2.40pm."
Seen in Glenfield...
This car was spotted in Glenfield. Getting home could prove problematic.
Picture this: Over the past 30 years, Parisian photographer Sebastien Lifshitz has been obsessed with vintage photographs, collecting anonymous albums from flea markets all around the world.
Audio: In case you missed it, this is the best Mike Hosking impersonation EVER. Kudos Jeremy Wells...
Video: TV's greatest catchphrases...
NZ Herald app users click here for today's video.
Got a Sideswipe? Send your pictures, links and anecdotes to Ana at ana.samways@nzherald.co.nz