The road works on Carlton Gore Road can be a bit frustrating at times, but the signage is great.
Silent autumn after the duck hunters strike
A reader writes: "We live on an estuary which until this month had a good number of paradise and mallard ducks, some of which breed on our property. But carnage began on the first morning of the shooting season. The hunters have obliterated the ducks from our environment. Perhaps a few have managed to shelter elsewhere, but where we live is already pretty quiet. Surely this isn't sustainable, sensible hunting?"
Getting to know the neighbours
Awkward situations: "My wife and I used to live next to a nice family with whom we had a friendly relationship. We saw them outside, we saw them at the community centre, we'd talk over the fences in the backyard, and so on. They were always barbecuing with friends/family over, and they'd regularly extend a polite invite for us to join them when they'd see us out in our backyard. After a lot of these invites, one day we were like, 'what the heck, it smells good and they keep inviting us', and we walked over. They seemed really shocked and quickly put together some plates for us ... then wrapped them in tinfoil and were all 'okay, byeeeeee!' It was awkward." (Source: B3ta.com)
Bag girls from another era
Teen fiction was quite er ... racy in the 80s. Awful Library Books gives the lowdown on the plot of Sweet Valley High book Outcast: "Bad girl Molly is in a tailspin of despair ever since Regina Morrow died at her party doing a bit of cocaine. She is grounded forever and is trying to put her life together. Of course this makes her vulnerable to the bad boy drug dealer, Buzz. (He is college-aged!) Naturally, running away to Mexico with this guy sounds like a plan."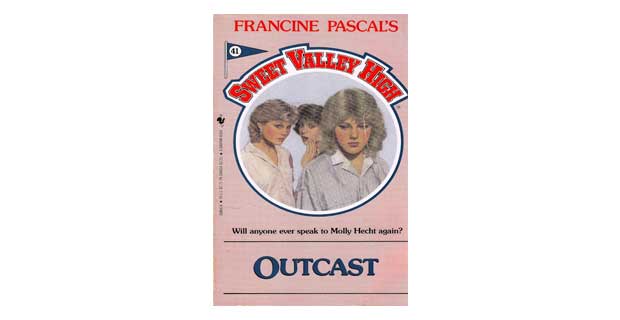 Nudes just part of the job
"I had to smile at the 'Warning: features nudes' note next to a link to artworks in the Sideswipe online column yesterday," writes Andrew. "I guess it's a sign of the times when there is a chance that famous paintings by famous painters from the 16th century might be considered shocking, offensive or not suitable for work ... I can just imagine being hauled into a meeting with HR because someone has complained that I was looking at Raphael's Three Graces on my computer." Another reader adds: "I know of an art show curator who had to get clearance from IT because she wanted to look at the work of a photographer she was thinking of bringing to the gallery. Some of the 'tasteful' black and whites were of naked human bodies and IT was blocking her from doing her job. Amazingly, IT and HR at the city council couldn't understand why in the context of her work as a gallery curator, she needed to look at art online. It took half a day to get her clearance."
The roadworks on Carlton Gore Rd can be a bit frustrating at times, but the signs are great.
Newsy: Big lasagne story hits front page...
Picture this: Always leave the office on time...
Tweet goodness: "If anyone finds domestic violence & alcoholism funny then Browns Bay SPCA opshop has a whole lot of Andy Capp
Interview: New Zealand actor Cliff Curtis interviewed by Slate on what it's like to play every non-white ethnicity there is..
Video: Two Dutch grandmothers on a plane for first time