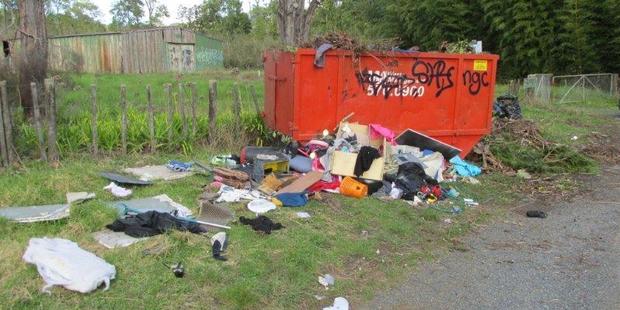 There is an ongoing problem in the Waitakere foothills with the bins for noxious weeds set up for free public use, says John. This is just one of several dedicated noxious weed bins supplied free for the public by Weedfree Trust.
Ellison's love of basketball goes deep
US billionaire and America's Cup mogul Larry Ellison is also a big basketball fan, according to the Wall Street Journal, which reported last month that Ellison was interested in purchasing the Los Angeles Clippers NBA team. Apparently Ellison has basketball courts on at least two of his yachts and shoots hoops for relaxation on the open water. To retrieve his errant shots that go overboard, Ellison hires a ballboy in a powerboat to trail the yachts.
Telemarketer could have another calling
"I was getting dinner yesterday when a telemarketer called me from Genesis to offer me a super discount on my electricity bill. I'd just been reading the Herald letters where a writer highlighted privacy concerns of selling Census data to commercial companies.
So I asked the telemarketer where she got my phone number from. After dodging the question for a while, she replied like a true politician: 'Why [do you ask]? Do you have something to hide?' And then she giggled."
21st century words
Webster's Dictionary has announced which new words have made it into their dictionary this year.
dubstep n (2002): a type of electronic dance music having prominent bass lines and syncopated drum patterns.
Auto-Tune or auto-tune vt (verb transitive) (2003): a proprietary signal processor, to adjust or alter (a recording of a voice) with Auto-Tune software or other audio-editing software, especially to correct sung notes that are out of tune.
hashtag n (2008): a word or phrase preceded by the symbol # that classifies or categorises the accompanying text, such as a tweet.
selfie n (2002): an image of oneself taken by oneself using a digital camera, especially for posting on social networks.
tweep n (2008): a person who uses the Twitter online message service.
unfriend v (2003): to remove (someone) from a list of designated friends on a person's social networking website.
catfish n (1612): (second definition) a person who sets up a false personal profile on a social networking site for fraudulent or deceptive purposes.
gamification n (2010): the process of adding game or gamelike elements to something (as a task) so as to encourage participation.
turducken n (1982): a boneless chicken stuffed into a boneless duck stuffed into a boneless turkey.