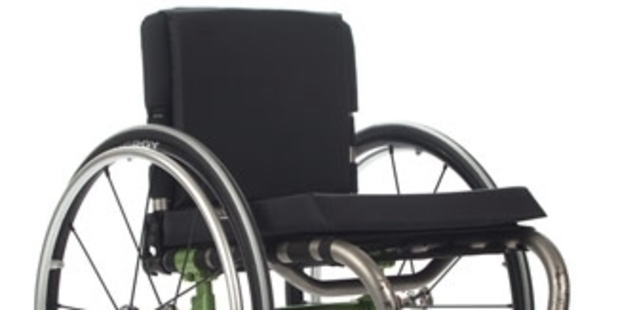 "My daughter's wheelchair was stolen from Sylvia Park shopping centre during the school holidays. It's like the one in the picture, except the frame is deep blue. It was left under the escalator going up to Hoyts cinemas. Sadly there is no security footage from any of the CCTV cameras that are advertised all around Sylvia Park."
Keep off your own grass
A person claiming to be a real estate agent mailed an angry and unsigned letter to an older couple in Ocean City, New Jersey, because they choose to park their car on their own front lawn. The handwritten letter reads: "I'm trying to sell million-dollar homes in the neighbourhood. I drive my clients around and they see your car parked sideways on the front lawn! You have a driveway - use it!" The note was sent to Bill and Barbara Doughten, who have lived in their home for decades. Bill explained why he sometimes parks his Chevy sedan on his lawn: "I got a bad leg, I shake, and I'm an old man." (Source: CBSPhilly.com)
A reader's satirical TV listing
TV3 9:30 MOVIE Warrior Sex Tape (2014) - A morality tale in which a 39-year-old woman learns the dangers of associating with a 22-year-old male who has a phone and overconfidence in his own driving. Dir K. Hurrell. TV critics described it as "part of a long body of work by NRL auteur directors". The film was originally only on limited release to the director's friends, before getting general release. The film was shot with no budget, but the director later admitted it cost "about $5000 in the end".
Radio gaga from Jackson
A reader writes: "The most eye-roll eliciting comment I heard this week was from Radio Live's Willie Jackson who, when talking about Lorde's boyfriend pursuing a pap, was genuinely perplexed by the 17-year-old singer's relationship because she is famous and could 'get someone like Sonny Bill Williams'. Co-host Ali Mau couldn't save that display of simple-mindedness."
Picture this
Really, really long-stay parking, spotted by Nickie Marshall on Yeovil roundabout in Somerset, England.
New blog
Pointless Letters collects snippets from those who love "Wasting stamps or electrons to shout at the world."... (It will sound familiar to some readers)
Picture this
Radio people can't spell...
Trade Me
"My husband is a local legend. Not only is he a member of the Helensville Volunteer Fire Brigade, but he's also putting his pride and joy - his handlebar moustache - on the line for Leukaemia and Blood Cancer NZ (LBCNZ)."
Video
Octopus opens jar from the inside...
NZ Herald app users click here for today's video.
Got a Sideswipe? Send your pictures, links and anecdotes to Ana at ana.samways@nzherald.co.nz