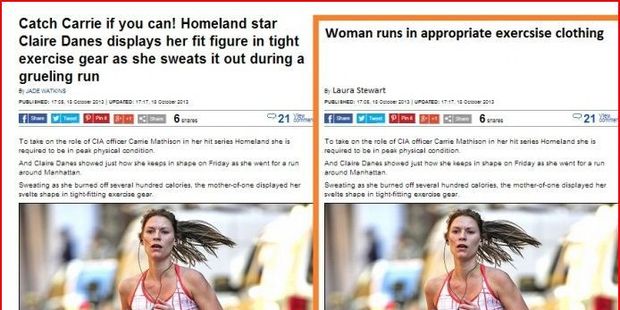 Headlines written on gossip sites notoriously overextend themselves to try be sexist and salacious - here a papped shot of Claire Danes out running appears with the real headline to the left and one that more accurately reflects what is happening in the picture. For more, go here.
Michelangelo's David cracking up
Michelangelo's statue of David risks collapsing under its own weight because of strain on the sculpture's "weak ankles". The 5.5-tonne, 5m-tall sculpture is showing signs of micro-fractures in its legs and researchers in the Italian city of Florence warn it could collapse under its own weight. It's been suggested an earthquake, or even road construction, could cause it to topple, and that David should be moved to a quake-proof room or to a new site outside the city. (Source: BBC.co.uk)
Diet site advertises junk food
Dear MyFitnessPal.com subscriber with the dirty bird ad on her app ...
"It's not KFC who chose to advertise on that particular site but rather that site that chooses who can advertise there. Seems like your diet site trying to sabotage your great efforts."
Ethiopian traffic trickery speeds up film, not cars
Stuart Feigin writes: "The Ethiopian traffic video is deceptive. As you can see from the speed of the pedestrians, it is greatly speeded up. The cars are actually going slowly and carefully."
Library ignores request to ban Seuss' Hop on Pop
The Toronto Public Library released its annual review which included a request to ban the 1963 Dr Seuss classic Hop on Pop for "encouraging children to use violence against their fathers". The complainant not only asked libraries to pull the book from their collections and issue a formal apology to the fathers of Toronto, but also "pay for damages resulting from the book". Thankfully the Toronto library system disregarded the complaint and the book remains on the shelves, in part because the children in the book are, in fact, told not to hop on pop.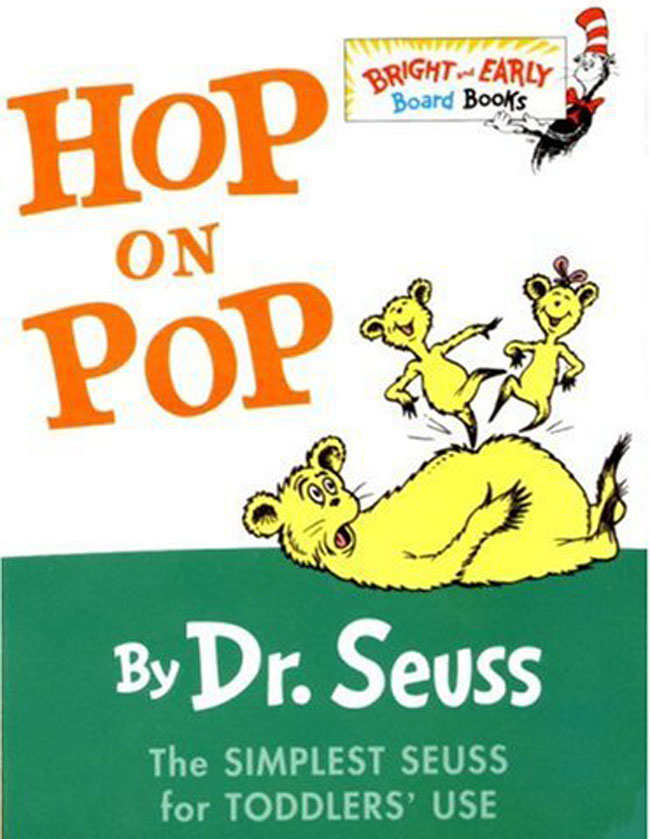 Manoeuvring at hospital too much after chemo treatment
A reader writes: "The poor person whose car is pictured at Auckland City Hospital is actually a patient who was leaving to go home after a round of chemotherapy, thus the accident. Just thought I would fill you in."
Books: A glitch has been found with the optical character recognition, when written texts are scanned and converted into ebooks, specifically it changes the word 'arms' to the word 'anus'. Here are some beaut examples, not for the squeamish...
Tech: Kids and animals are both useless at looking at the camera but Look Birdy fixes that. The new photo app plays different bird sounds while flickering the flash to get kids to look your way, when trying to snap them. Works pretty well on pets too.
Graphic: Why the poor can have "things" but can't escape poverty...
Video: A thoughtful and somewhat trite poem about how anti-social social media really is...
NZ Herald app users click here for today's video.

Got a Sideswipe? Send your pictures, links and anecdotes to Ana at ana.samways@nzherald.co.nz