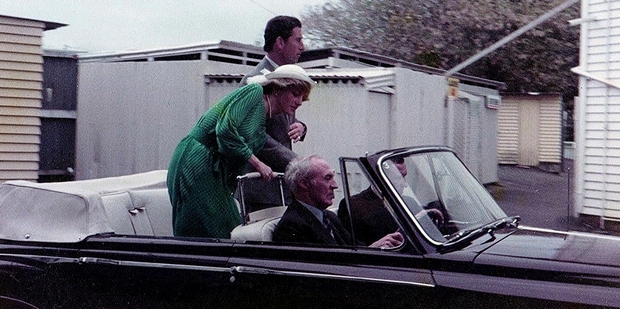 Stunning Diana snap and no security
Jill Brookes writes: "There have been recollections during the recent royal tour by William, Kate and George, of Charles and Diana visiting the assembled schools at Eden Park in 1983. I was sitting in the southern stand with pupils from Mt Eden Normal School (my younger son was in Year 8) and I decided to sneak through the labyrinth of hallways to the entrance where the royal party would be coming into the park. It sure says something about the security at the time as I was not challenged at all and got this amazing photo of them standing on the back of the Rolls Royce as they drove into the park. It appears that Diana was adjusting her pantyhose or something similar at the time I took the photo."
Everyday sexism
1. The funniest instance of everyday sexism is when you (as a female) say, "Yeah, I don't plan to have kids," and the person you're talking to just looks at you like, "Something has gone horribly wrong. This baby machine is broken".
2. At work, after my colleagues decided that my refusal to shave my legs except on special occasions is part of my evil feminist plan to dominate my boyfriend by creating a pavlovian reaction to my body hair — "I bet he has to ask permission before he has sex with you". Well ... Yes. I'm not a sex doll.
3. Some bloke just called me a slag as I cycled on my merry way this evening. I'm amazed he was able to gather so much in such a small space of time. Must have been my knee length dress, woollen tights and two pairs of socks that gave me away, and the bobble hat of course. Man should be the next Sherlock. (Source: everydaysexism.tumblr.com)
NZ Post doesn't trust the mail
"We just got a reminder letter to pay for our postbox." writes Craig. "We rang NZ Post and said we hadn't received the initial bill. They said that was fine and we should just pay it now. When we said we'd send a cheque NZ Post asked if we could do internet banking or credit card ... 'because cheques go missing in the post'."
Check this: Wikipedia should be more like this; succinct, no bullshit and sometimes amusing ...
Too posh for social media: A gentleman is always on time and makes love on his elbows ... but doesn't tweet or own a cat: Country Life magazine's 'Gentlemanly Commandments'.
Quick Clip: The Zumanjaro: Drop of Doom ride is opening at a theme park in the US this year. The ride plummets 126 metres (41 storeys) and reaches 145km/ph. As they descend, the Kingda Ka rollercoaster, the fastest rollercoaster in the States reaching speeds of 205 km/ph, whizzes by.
Video: Magic tree or basic physics?

• Got a Sideswipe? Send your pictures, links and anecdotes to Ana at ana.samways@nzherald.co.nz