A disappointed reader writes: "This is the view of the track we had from our seat in the stand on the start/finish line at the FIM Speedway at Western Springs. We paid $120 for these seats."
The dress that ruined the wedding
A mother-of-the-bride has successfully sued a top boutique in Melbourne, over claims her dress was too tight to enjoy her daughter's wedding. Lena Mancino was seeking a $3500 refund from Croce & Colosimo Couture, alleging the frock left her physically and emotionally bruised. Mrs Mancino alleged the body-hugging dress made her daughter's wedding an awful experience, saying she could hardly sit and was scared to eat or drink at the reception in case she needed the toilet. Designers Mario Croce and Ines Colosimo say Mrs Mancino had signed a document when she had collected her outfit, agreeing she was "completely satisfied" with it. "At the end of the day if she wanted it looser, I would have made it looser. It would have taken me 15 minutes," Mr Croce added. (Source: Herald Sun)
A word on hygiene
Dave Orchard would like to remind people to wash their hands frequently. He writes: "Our hands pick up all kinds of germs in day-to-day life. Consider the transfer of bacteria when you have touched a handrail, door handle or shaken someone's hand. Many people are too lazy to wash their hands after using the toilet. People pick their noses and scratch their private parts. Think next time you shake the hand of someone: where has it been?"
Thou shall ...
From God's Twitter account, a new set of 10 commandments:
1 Laugh
2 Read
3 Say please
4 Floss
5 Doubt
6 Exercise
7 Learn
8 Don't hate
9 Cut the bullshit
10 Chill
Ominous. (Via Boing Boing)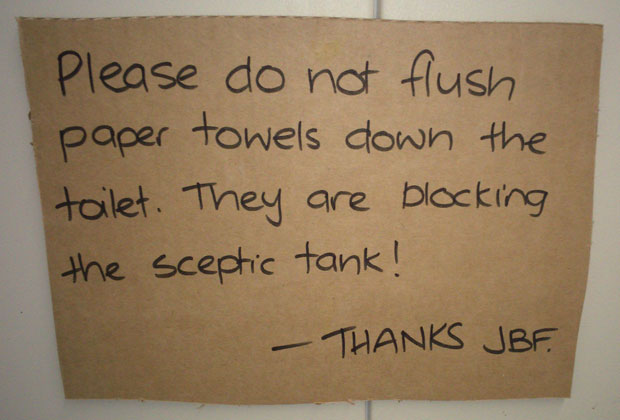 Picture this: We must be due for another look at Sad Desk Lunch...
Quick clip: Just standing in high heels can be dangerous...
News: Chinese firefighter carried flaming propane cylinder from building...
Picture this: "The best photo ever taken at a competitive dog show..."
History: British Pathé ?have uploaded 85,000 films to YouTube this week, if you have time to murder...Here's one that'd be Seven Sharp dream fodder - a water deviner from 1954 who uses a zombie-like walk which throws her body around so violently that "sometimes she falls flat on her face...