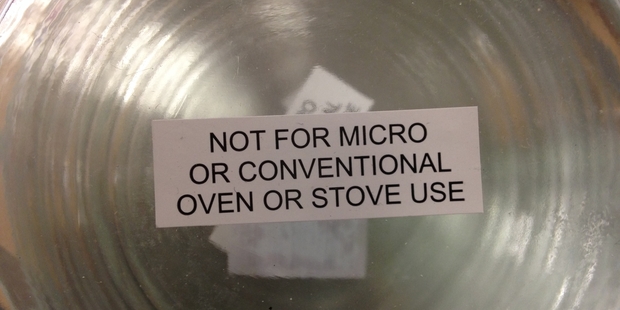 Glenn Young was at his local Pak'n Save when he came across a casserole dish, for a very reasonable price. He considered buying it, until he read the sticker on the lid, which pretty much made it unusable.
Gliding On in 2014
This exchange about the women's loo happened in an Auckland office of professionals, all over 35 (Only the names have been changed).
Carol: I might be the only one who has the following gripe - if so, please ignore this email and I'll just get over it; if not, can we please not lower the lid on the toilets? Personally, I'd rather not have to touch any part of the toilet with my hands at all, so I would prefer it if people didn't lower the lid.
Viv: And while we're griping ... will you please check the seat before you leave the cubicle? I've walked in to find drops of urine on the seat three times in the last few weeks.
Susan: I agree. I don't want to have to touch it either. I know people who are worried about the flush splashing water on them. If that is the reason then can you please just wait and lift the lid when it's finished flushing?
Viv: Make that four times.
Judy: If it's causing concern I will arrange a toilet training programme. Let me know what day suits you. We need to make it a day that all the ladies are at work.
Carol: Good idea, Judy! It looks like we need one.
And maybe throw in a section on consideration for others as well.
Worst jobs ...
1. A reader writes: "In my teen years, working at McDonald's. When you were on the graveyard shift, the drive-through was often full of wack-jobs. One time a guy wearing a thick woolly jumper and no pants, came through the drive-through and flashed his 'frank and beans' at me. We called the police but my boss told me to try to stall the guy till they got there so I leaned out the window and told him I was waiting for his Quarter-Pounder. Maybe wrong choice of words."

Norway's gendered Princess/Pirate eggs.....

2. Measuring garden marrows. "Each one - of 50 - had to have its length and girth measured at four-hour intervals from 6am to 6pm for six weeks. I had to ensure they were measured in a specific order and that they were not excessively handled. I hate marrows because of this job."

Little Red Riding Hood meets Little Miss Muffet. (Via Bad Newspaper)