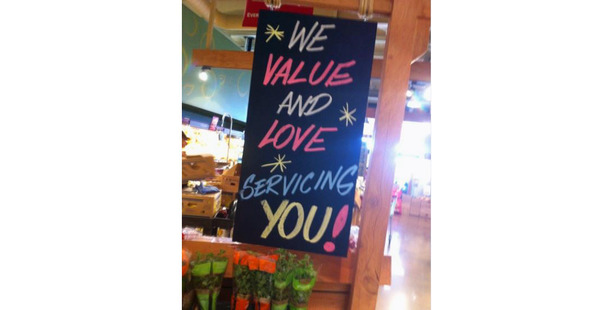 And we complain about $19 for unlimited texts ...
Mobile number 777-7777 has sold for more than US$2 million at a charity auction in Abu Dhabi. But there is a catch. The unnamed buyer does not actually own their memorable new number as all numbers technically belong to the government. Instead, the winner gets a two-year phone contract for Etisalat's Diamond Plus package, which includes the equivalent of 12 hours of calls and 725 texts each day. (Source: BBC.co.uk)
Up the pole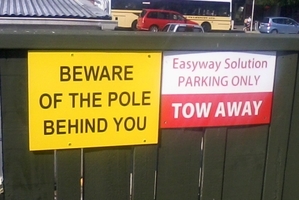 "Unless there is a dangerous Polish person on the loose in Highbury, Birkenhead," writes Dave Gunson," this sign should more properly read 'Be aware of the pole behind you'."
Crack open a cold yoghurt
Turkish authorities are considering heavy fines for people who promote alcohol and drinking on social media.
Companies have turned to online promotion after a law passed last year banned brewers and distillers from traditional advertising and sponsorship of cultural events. Prime Minister Recep Tayyip Erdogan has campaigned against "tipsy and wasted youth", suggesting young people enjoy the traditional yoghurt beverage "ayran" instead of alcohol. (Source: BBC.co.uk)
A case of the shoe on the other foot?
In response to the survey featured yesterday that said men feel inferior if the door is held open for them, a reader asks: "Does that mean they hold the door for women because they think them inferior? And I thought it was chivalry! Not any more - from now on I'm going to hold the door open for as many men as I can just to be perverse!"
For the ultimate humiliation, another reader says, how about this: "My boss, a very tall woman, had a meeting in her office with a very short man. As he left she opened the door for him, holding it with her hand high enough for him to walk through under her arm. Not until he'd gone did she realise what she'd done."
"New World, Kapiti going all the way," notes Marc.
Ingenious idea: Recycle a washing machine drum into an outside brazier.
Video: The Tonight Show's Jimmy Fallon and Mad Men's Jon Hamm teamed up to photobomb tourists at the top of New York City's Rockefeller Center.
In case you missed it: While it's impossible not to smile at these handsome strangers kissing and the folk featured are actual strangers, but they are also mostly models and performers, so wouldn't have the awkwardness that everyday norms like us would. And it's an ad for clothes. But if you can pretend like all that doesn't matter, this clip is gorgeous. Read more about it here.
Video: Honest movie trailer for Frozen.

Got a Sideswipe? Send your pictures, links and anecdotes to Ana at ana.samways@nzherald.co.nz