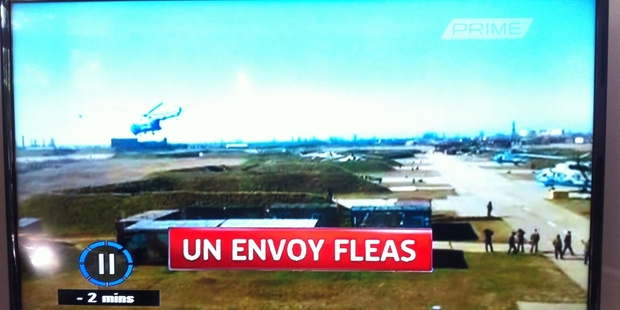 Has the UN envoy got itchy 'feat' too? Prime News captioning went awry last Friday.
Multi-tasking sales assistant wanted, must have low handicap
Rosalie from Gulf Harbour writes: "I couldn't help but laugh at the job description at the Gulf Harbour Country Club for a multilingual, coffee-making, computer whiz, ladies golf apparel sales assistant, and golfer with a low handicap. Also needing to live within 15km and be on call seven days. Looks like they want the ultimate jack-of-all-trades here."
Crackdown on nude tourists at Machu Picchu
The Incan relic of Machu Picchu has survived five centuries of conquests and earthquakes, but it's facing what is probably the baldest attack yet: naked tourists. They have aroused the anger of Peruvian authorities who said park guards would keep their eyes peeled to prevent future nakedness. The Guardian reports that a 30-year-old New Zealander and an 18-year-old Australian were taken into police custody and told to erase nude images from their camera before they were released. The pictures still found their way on to the web.
Glass of water or fire brigade?
Following last week's story about the rubbish bin on fire, Nick writes: "After seeing it from a distance and watching so many people walk past it, I went to the building right in front of it and asked the receptionist for a glass of water or something to put the rest out. She just stared at me blankly... A similar thing happened outside the Civic a couple of months ago - the lady in the cafe nearby quickly grabbed two glasses of water and put the fire out. No need to call the fire brigade, eh?"
Absent-minded golfer seeks clubs
Ashley writes: "I somehow managed to put my golf clubs behind my car then drive off leaving them on the side of Kowhai Rd by Pupuke Golf Course [in Campbells Bay] on February 26 about 8pm. By the time I went back they were gone." Contact Sideswipe if you can help.
Is this modern poultry with colourful distress pyrotechnics?'' asks Richard Bool: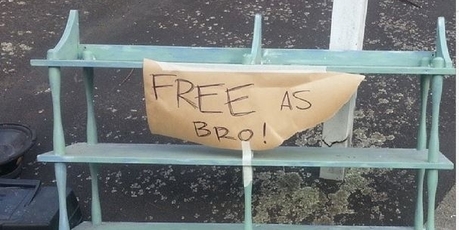 "Friendly and free, this bargain was spotted by Andre Alessi in Devonport:

Video: An impressive birthday party performance by a group of Maori kids playing Metallica, all on string instruments...
Picture this #1: 20 Photos Taken at the Exact the Right Moment...
Picture this #2: Horse Sculpture at the Kumeu Show...
Video: An unstoppable avalanche in "Moso in Passiria ", South Tyrol, Italy. (Tyrol is in Austria but its southern part is in the autonomous Italian province of Bolzano, Italy)...
(Hat Tip Silvano)
Got a Sideswipe? Send your pictures, links and anecdotes to Ana at ana.samways@nzherald.co.nz