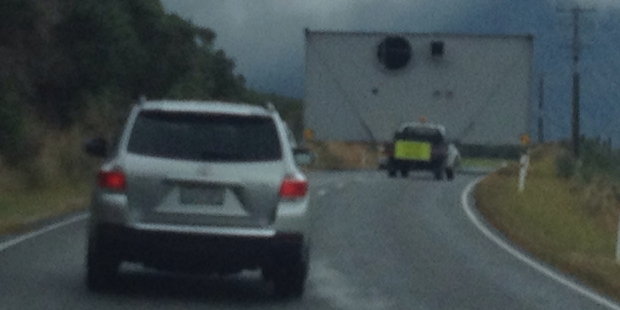 Wide load spotted on Arthurs Pass on its way to Greymouth. (Snapped by Emma)
An expensive night out - and that was just the taxi ride
"Over Valentine's weekend my wife and I decided to enjoy another fabulous weekend on Waiheke," writes Bob. "We decided to get a cab to Te Whau bay (6.5km trip) where we had rented a romantic cottage. The taxi driver from [a local taxi outfit] was very happy to take us and was extremely pleasant on our short trip - there was good reason for her to be so happy ... the fare was $80! The driver then said that since we were 'almost locals' she would give us a discount. In the end we were charged $70 plus $2 for credit card - $11 per km! We then used [another local taxi company] for the return journey to the ferry and were charged $40."
Son of a gun, it's another Ruger
The popularity in the US of naming children after guns (Colt, Remington, Ruger, Gunner, Beretta) is on the up. "In 2002, only 194 babies were named Colt, while in 2012 there were 955. Just 185 babies were given the name Remington in 2002, but by 2012 the number had jumped to 666.
Perhaps the most surprising of all, however, is a jump in the name Ruger (America's leading firearm manufacturer) from just 23 in 2002 to 118 in 2012. This name [Ruger] is more evidence of parents' increasing interest in naming children after firearms," writes Laura Wattenberg, creator of BabyNameWizard.com. "Colt, Remington, and Gauge have all soared, and Gunner is much more common than the traditional name Gunnar." (Source: kottke.org)
Labrador keen to join the wolf pack
During the weekend Dave Miller was watching a fascinating documentary about the wolf packs in Yellowstone National Park. "My golden retriever Buddy was quite animated. Just when the wolves started howling it was all too much for him and from a sitting position on the floor he launched himself and landed on all fours on my desk, just missing my laptop."
A concerned (and passive-aggressive) workmate.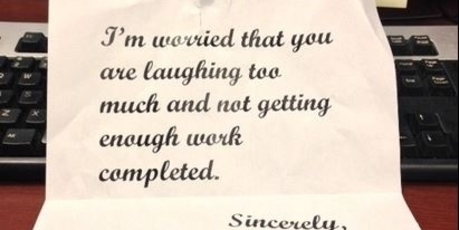 Good read #1: A tremendous opening paragraph in a story by Caitlin Flanagan in The Atlantic magazine about the dark culture of US fraternities..."One warm spring night in 2011, a young man named Travis Hughes stood on the back deck of the Alpha Tau Omega fraternity house at Marshall University, in West Virginia, and was struck by what seemed to him-under the influence of powerful inebriants, not least among them the clear ether of youth itself-to be an excellent idea: he would shove a bottle rocket up his ass and blast it into the sweet night air. And perhaps it was an excellent idea. What was not an excellent idea, however, was to misjudge the relative tightness of a 20-year-old sphincter and the propulsive reliability of a 20-cent bottle rocket. What followed ignition was not the bright report of a successful blastoff, but the muffled thud of fire in the hole." Read the full story here...

Blame social media: Stupid 21-year-old drives around Philadelphia, pretending to gun strangers down with a pellet gun and filming their reactions for Instagram...
Picture this: You know, you can retire any time, Don Draper ...
Video: Would you give your jacket to a shivering child?
Got a Sideswipe? Send your pictures, links and anecdotes to Ana at ana.samways@nzherald.co.nz