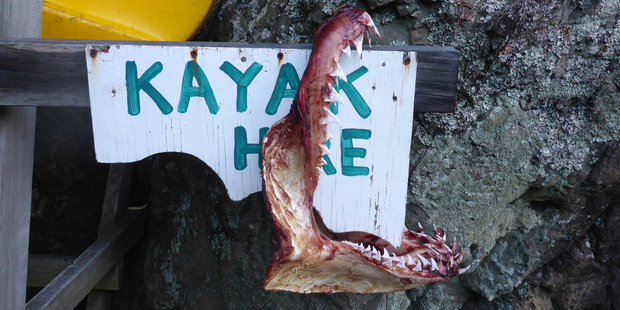 Tim Sharp spotted this attached to a sign at a backpackers in Bay of Plenty near Te Kaha.
How low can you go? This low.
Adrian Ironside writes: "On Tuesday evening, in peak hour traffic, a young woman motorcyclist collided with a car at the May Rd/Mt Albert Rd intersection. While being assisted (she had broken a leg) by many good Samaritans, a low-life moved her motorcycle from the immediate scene and proceeded to ride it away into the sunset."
Lady Humorists of Twitter
Aunty Haurangi: "Two women on TV saying choose rice crackers rather than other crackers, but they're still 'treat food' and I can feel my brain melting."
Gothwitch Android: "Rice crackers (esp the seaweed soy glazed ones) are tasty but making them a 'treat' is horribly joyless."
Mrs Clemerlips: "I reckon shoving cardboard in my face when I need a pick-me-up could be great."
Aunty Haurangi: "Make sure that cardboard is baked not fried."
Young people just not clowning around
The largest clown professional organisations report rapidly shrinking numbers of members. The World Clown Association has dropped from 3500 to 2500 members over the past decade. The problem is that older clowns are dying off and younger people are not taking up the profession. (Source: Neatorama.com)
Gone the day after BDO, back the day after Eminem
The chocolate-coloured Burmese, who purrs like a pigeon and answers to Ted and featured in Sideswipe after going missing from Old Mill Rd at the time of the Big Day Out, has been found. His delighted owner writes: "He just walked in at 4pm Sunday - turns out a zoo guy exercising the cheetah (the mind boggles) heard a cat crying and he found an old drain system. There was a grate on it and a 'skinny black-faced" cat in there who wouldn't come to him. So he left the grate off and put some sticks down so the cat could climb out. Which he duly did and came home to us. One month in a drain! He is very skinny and spent the first night at the vet on an IV and is now happily home. He is so hungry he stole my toast out of the toaster as it popped up. Thanks to everyone who looked for him and made contact.
"Is this where Lorde does her washing, wonders Ross McMillan?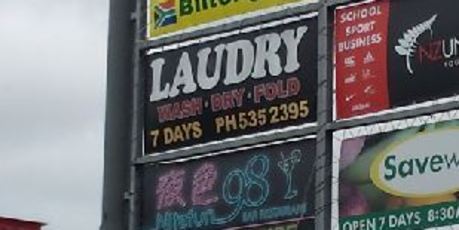 Picture this #1: The most peculiar suggested Google searches (illustrated!)...
Picture this #2: Hip, twenty-somethings are photographed with their elders, either a parent or a grandparent. Then the two family members swap outfits and had their photo taken again...
Good read: Tabloid media's simultaneous tsk-tsking and titillation at young women getting drunk in public...
Video: Auckland Daze actor and proud mainlander Fasitua Amosa explains how to tell the difference between a South Auckland Islanders and a South Island Islanders...
Got a Sideswipe? Send your pictures, links and anecdotes to Ana at ana.samways@nzherald.co.nz