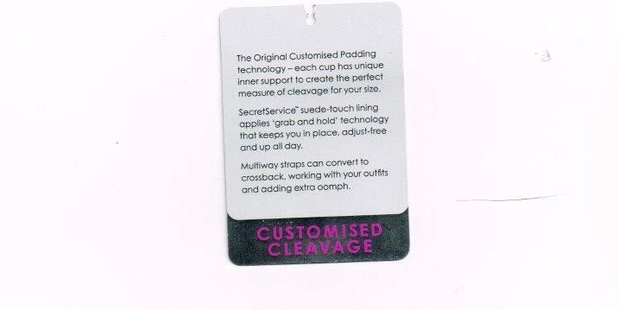 Susan thought she had just bought a flesh-toned bra with tiny diamante sparkles - but it is so much more, as she learned from the tag. "An entire undercover operation is in progress. I have been embedded. SecretService suede-touch lining is unbeknownst to me, applying 'grab and hold' technology to keep me in place and up all day and multi-way straps are adding that extra oomph in a rear guard manoeuvre. I do feel a bit spooked at this storm of clandestine activity in my B-cup."
Strange coincidence at Grange
Pat and Bernie Taylor from Grange Motor Lodge, Papatoetoe write: "Two Scottish couples boarded a flight from Glasgow on Tuesday. They bumped into each other again in Dubai and again at Sydney. First couple: 'Oh, you're off to NZ? So are we. What a coincidence!' Second couple: 'Yes, we're staying in Auckland for two days to recuperate after the 40 hours travelling'. First couple: 'We are too. We're staying at The Grange ...' Second couple: ' ... Motor Lodge!' We're only a small motel so I wonder what the odds are?"
Stingy landlords get their comeuppance
Tenancy tales 1: "We rented a house where the owner had a dance studio behind the house. We discovered that they were clearly using our water and electricity (which we were paying for). We issued a 14-day notice for them to get their own water and electricity supply. We agreed to a discount in rent instead of them installing a whole new water and electricity meter on the proviso that they also told subsequent tenants. "
Tenancy tales 2: "We moved out of a house as the landlord refused to do any maintenance - the last straw was the carpet was rotting/lifting and we were getting tacks in our feet just walking around. We had our bond withheld because of a missing small plastic plug (although there never was one in the first place). They were going to charge us $50 to replace it but we purchased one ourselves for 45c! "
Missing cat looks like chocolate, purrs like pigeon, answers to Ted
There were allegedly just seven arrests at the Big Day Out but these forlorn cat owners reckon there were eight. "Our cat Ted must be in lock-up as he hasn't been home to Old Mill Rd, Grey Lynn, since. Ted is the colour of a dark Sante bar, is Burmese and just 18 months old, so he will be missing us. His brother, Wilson, is miserable. If you know where Ted is, please contact Sideswipe or take him to your local vet where they will check his chip. PS: He purrs like a pigeon."
Inevitable when you leave a bed on the side of the road. (Snapped in Tauranga)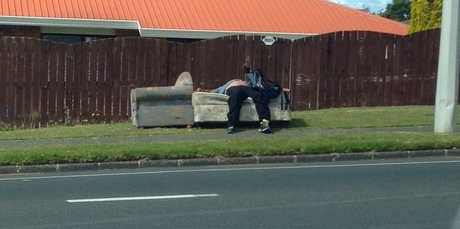 Picture this #1: Liam Gerrard is a Devonport artist whose work includes this magnificent illustration...
To see more of his work, browse here.
Picture this #2: Birth of a peanut...
The good old days: Sports Illustrated 1964 ...
Video: Conference call in real life...
Got a Sideswipe? Send your pictures, links and anecdotes to Ana at ana.samways@nzherald.co.nz