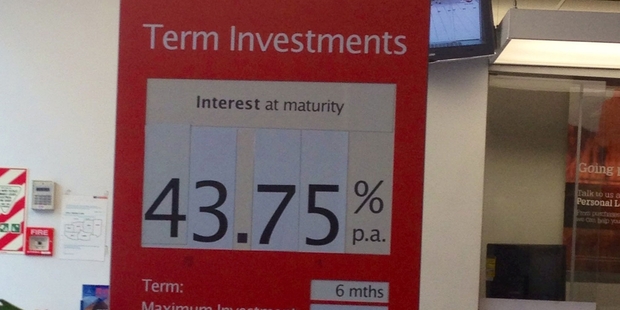 Coffin in capping stunt
"Among my brother's many friends at university was the son of an undertaker," writes a reader. "During one capping week a hearse and coffin were obtained, and said ensemble was parked outside a florist in central Wellington, while the formally clad 'undertaker' and his assistant went into the shop. At this point another student removed the valve of the hearse's right rear tyre. Naturally, this required removing the coffin and reverently placing it on the footpath, while the tyre was changed. Having completed that operation, the hearse was driven away, leaving the coffin on the footpath. The resulting public reaction was quite something!"
Child caught up in ID rules
"Here's a follow-up to yesterday's ID for ice story. I was at Whakatane Countdown getting some camping provisions. At the counter, paying by Eftpos and my 3-year-old wants to 'push the green button' ... At which point the checkout lady said he wasn't allowed to do this as I had a bottle of wine with my groceries and him pushing the green button was akin to him purchasing the alcohol ..."
Carpet clean rule shot down
An expert in the Residential Tenancy Act says the blanket clause that a rental property must have the carpets professionally cleaned at the end of a tenancy is not allowed. The carpet must be left in a reasonably clean and tidy condition, and for most people (not everyone!) this just means a really good vacuum.
Bond money put to good use
When Yvonne was moving out of her first student flat, where she had lived for two years with no problems, the landlord complained there was water damage to the lino. "We swore it had always been like that but couldn't convince the landlord and were too young and naive to think of fighting it via the Tenancy Tribunal, so we forfeited our entire bond. A week after moving out we peeked in the windows. Floors were ripped up and walls knocked out. Total renovation! Am sure our bond money helped!"
Leave it to authorities
Scenic Drive cockerel death. "Did you witness this supposed attack? No. Then you cannot comment on it. My lovely hen Fluffy got out and ate my neighbour's garden. Sadly, when it happened again a few days later before the matter could be resolved, the neighbour whacked her so hard she broke her leg. She was put down. Taking such things into your own hands you are just continuing a cycle of hate, anger and selfishness."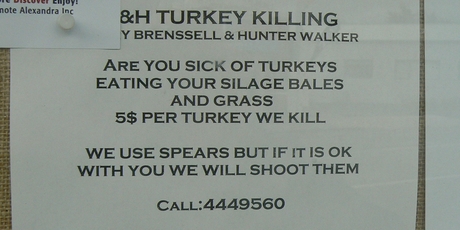 "Here's an interesting service offered on the Ranfurly community noticeboard. We were wondering if they would offer their services in Wellington too. Sometimes I think we need it."
Picture this: The All Blacks brand has really sold out, says this Redditor...
Picture this #2: Residents of a nursing home in Germany re-create classic movie scenes for a calendar...
Parody: The trailer for Not Another Sundance Movie ....
Video: The boat Seaspan Harvester, in British Columbia in Canada transports and delivers wood by listing and tilting 30° to dump the trunks of trees in the water...
Got a Sideswipe? Send your pictures, links and anecdotes to Ana at ana.samways@nzherald.co.nz