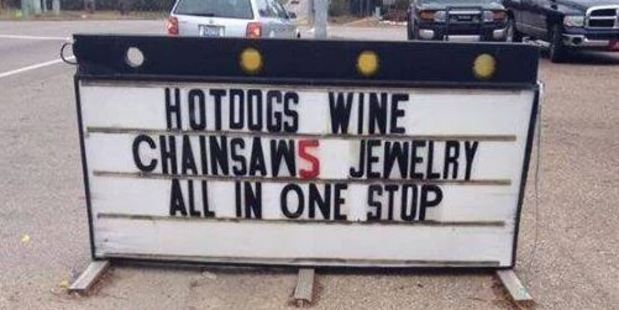 Only in America: The ultimate one-stop shop.
Roaming dogs beware
A reader writes: "Looks like the cockerel that lived at the Cutty Grass Track car park on Scenic Drive in the Waitakere Ranges for the past seven years has been killed by a dog. There are no stray dogs in the area, so that means someone has let their dog loose and it has killed the beautiful rodent controller and scrap eater. A few months ago, my neighbours let their dog roam free and it killed my hen, Shygirl, in front of me and my granddaughter. I held my lovely pet in my arms while she died. Animal Control seemed happy to let the dog's owner move it to his girlfriend's place. Guess they know that it won't kill pets if it lives somewhere else, and that small children will be safe too. I think in future I will deal with wandering dogs myself; the authorities appear scared to upset a killer's owner. I'm not."
Tenants hard done by too
"For every hard-done-by landlord, I reckon there are probably plenty more tenants being shafted," a reader writes.
"I remember a few years ago my family and I were vacating a large rental in Mt Albert, which contractually required me to get the '2000-year-old' carpets professionally cleaned. I spent $600 doing the four-bedroom house. Two days later I drove past and saw the new owner ripping out the carpet and dumping it in a skip!"
I guess every renter's got a story to tell ... email me with yours.
No ID, no ice
Twenty-five-year-old Jacob rushed into Liquorland, Takanini, to grab a bag of ice on Tuesday night. "When I came to pay, the guy at the counter asked for my ID. I didn't have it on me because I was in a rush and he wouldn't sell it to me without ID. For goodness sake, it is frozen water - not alcohol ..."
Who needs a hearse when you have a towbar
"In 2008, my uncle died in Whangarei," a reader writes. "The family had the local undertaker dress him up and lay him out in his coffin. Then they argued over where he should be buried, with one son insisting that he be interred alongside their mother in Opotiki. So the decision was made to have him taken by hearse from Whangarei to Opotiki, until a quote arrived for the prospective journey. They quickly decided that their father wouldn't care too much for the estate to pay such a sum, so instead they loaded his coffin onto a trailer and during the night transported him down to Opotiki themselves."
Eliminating a potential source of confusion.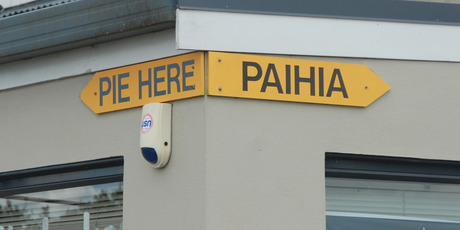 Local: Best playhouse you'll see today...
Quiz: Test your knowledge on carb values of various foods with 'Play your Carbs Right' . I have a feeling te ladies will do better at this...
Picture this: Soft rye pretzels sound better than they look...
Good read: In 1980 14-year-old Bill Comeans was murdered near Ohio. The crime remains. In an effort to bring attention to the case, Comeans's little sister has created a Twitter account in her brother's name and his voice. "My last meal was a half a bowl of ice cream. I put it in the freezer so I could go get my sis. That bowl stayed in our freezer three years." It's a macabre idea that is proving effective...Read more here...
Nostalgia: As a diary keeper/journal writer I am glad I destroyed them pre-internet. But this woman has put every embarrassing page of her diary from when she was a tween growing up in the 90s, online....
Video: Dog tries to drink from iPad...
Got a Sideswipe? Send your pictures, links and anecdotes to Ana at ana.samways@nzherald.co.nz