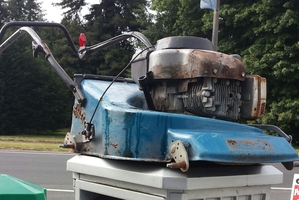 I thought it would fit in the mailbox if I took the wheels off. Snapped outside a Rotorua shop by Ron Heydon.
One out of the box
Lynn writes: "Recently a good Samaritan offered to pick up a coffin for a friend. After some searching they found one which was available from an address in Manurewa, hence the offer of the pick-up. So, being the good friend that he is, he duly travelled south to pick it up. However, when he returned with the coffin he was asked how he had transported it as he didn't own a suitable vehicle for such a delivery, his reply was that he put it on his trailer! And he wondered why he was getting strange looks from fellow motorway users."
Too cute for words
Gaby from Hillcrest was at the supermarket with her 3-year-old son. "A friendly old lady approached us and said to my son, "you're a very cute boy." And he replied: "Yes! I have a penis. Do you have a 'megina'?" The old lady blushed, gave me a weird look, turned around and left. What can I say? I am a biologist!"
Sexism starts at home
"Growing up, it was always my responsibility to clear the table after meals, never my brother's. To this day, age 40, he will eat and leave clearing up to 'the women'. He has very set ideas on women's jobs and men's jobs. I blame my mother. She has always served her son in a way that she would never dream of doing for a daughter." (Source: The Everyday Sexism Project)
Flights of fancy
"Why is it Air New Zealand's problem if Alison's meeting is cancelled?" asks Pat Stuart. "I recall one time when I had arranged a flight to Auckland to attend my brother's daughter's friend's 6th birthday. Before I left our dog got stuck in the neighbour's garage. By the time I tracked down our neighbour (who had gone scuba diving) to release our dog, I missed the flight and the birthday party. I asked Air New Zealand for a refund and they said no! On reflection I accepted that Air New Zealand was not being unreasonable."
It's a bird-eat-bird world
Hilary Stollery from Bird Rescue Manukau explains the duckling killers of Blockhouse Bay: "The gulls grabbing ducklings are black backed gulls. It is distressing for the residents, but this is what the gulls do in nature. They are a protected species. They cannot be removed, and more would simply take their place. Nature, in the bird world, at times is a cruel thing."
A reader writes: "A couple of weeks ago I noticed a sign on SH16, west of Wellsford, saying 'Don't Dump Cat'. Now, after the Weekend Herald front-page article about 'Granny-Dumping', the sign has been modified."

Picture this: Pubic hair has been added to American Apparel mannequins in New York...
Pregnancy capitalism: As far as stupid uses for 3D printer technology goes, this plastic figurine of your unborn foetus is top of the list...
Knowledge is power: The problem with Facebook...
Quick clip: Liverpool fans will enjoy this...

Picture this: Caramel man attempting to escape!

Video: Classic paintings are subtly animated in the short video "Beauty" by Italian animator Rino Stefano Tagliafierro. Whether you know the art works or not, the film is just breath-taking. (Warning: contains images of the naked female form)
B E A U T Y - dir. Rino Stefano Tagliafierro from Rino Stefano Tagliafierro on Vimeo.
Got a Sideswipe? Send your pictures, links and anecdotes to Ana at ana.samways@nzherald.co.nz