"You won't find this sign outside a cafe in Ponsonby," writes Michael. That's because it's in Gore!

War declared on duckling-killer
A reader writes: "There is a large bird at the city council village in Donovan St, Blockhouse Bay, that's picking up baby ducklings and flying them away to his lair, where, I imagine they make a tasty meal. One of the residents phoned me. She had seen it happen and was horrified. The bird is much larger than the largest sea gull, and is black and white. The old folk feeding the ducklings love them and it's the season for baby ducks just now, so the giant bird is having a feast. Can anyone identify this bird? How can they get rid of him?"

Apple pulls kids' plastic surgery app
Apple have pulled an app aimed at children after a backlash from social media users for promoting cartoon plastic surgery to children as young as 9. A smiling cartoon character named Barbie (but not related to the Mattel one) is about to go under the knife. Users of the app are placed in the role of a liposuction doctor.
The blurb for the game reads: "This unfortunate girl has so much extra weight that no diet can help her. In our clinic she can go through a surgery called liposuction that will make her slim and beautiful. We'll need to make small cuts on problem areas and suck out the extra fat. Will you operate on her, doctor??" (Source: Guardian.co.uk)

Airline movies coy about art
On a flight with Emirates Denise de Groot watched two art history documentaries which had been censored. "One showed nudes (best described as tasteful and not full frontal) of an artist's wife and the other some famous Italian Renaissance sculptures. All breasts, buttocks and genitals had been blurred so were invisible. I suppose it gives someone a job."

Hazel, your missing bank draft has been found
Sue and Ian are about to make a visitor from Ireland really happy. They write: "The international bank draft drawn in the name of Hazel Poole has been found safe and well on the floor of a local public toilet." She can collect it by contacting the couple on gun@xtra.co.nz specifying the toilet and the amount of the draft and the issuing bank and branch.

Camper/trailer/boat combo gets thumbs up under law
Malcolm Yorston from the Imported Motor Vehicle Industry Association also saw this camper/trailer/boat combination pictured in Sideswipe yesterday and says it is legal. "As the towing vehicle is a heavy vehicle with a gross mass in excess of 3500kg it is legal to tow two trailers (providing the combination is within the manufacturer's gross combination mass and the dimensional requirements are adhered to) ... The combination must be able to stop within a distance of 7m from a speed of 30km/h."

Bargain sign snapped in Dunedin (Hamish McNeilly on Twitter @southernscoop)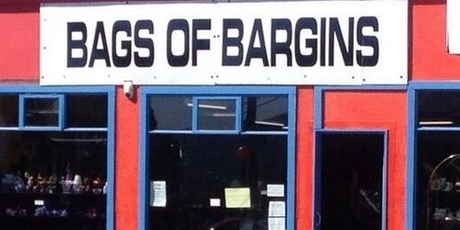 Quiz: How long would you survive after an apocalypse?
Video: Prodigy's Firestarter video without the music...
Picture this: A sheep pig. Also known as the Mangalitsa pig a rare breed of pig from Hungary. Read about it here.
Video: Since A Dog's Show was so popular in New Zealand, I thought you might like this video of a couple border collies sneaking up on their mates.

Got a Sideswipe? Send your pictures, links and anecdotes to Ana at ana.samways@nzherald.co.nz