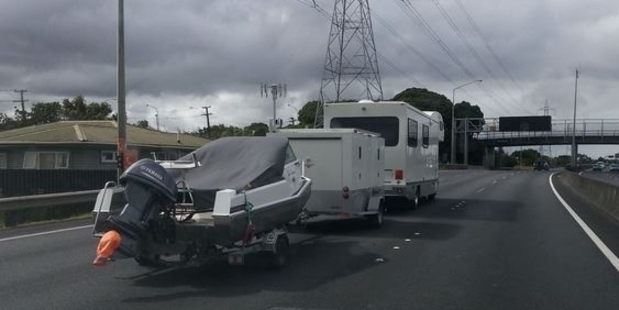 Is this even legal? Spotted on the Southern Motorway on Sunday.
Stolen trailer returned after two years
"Two years ago some low life stole my trailer at the back of the shops," writes a reader. "I was annoyed to the max, not just for the actual loss but more for the inconvenience of business interruption. Needless to say they were not my favourite people. But a strange thing happened yesterday ... because of remorse, or maybe the thieves didn't need it anymore, the trailer appeared back right where it was taken from. Thank you thief, maybe you are not such a bad guy after all? Perhaps it would be too much to ask for a billing address so I can send you the invoice for two years of hireage? Now, if only the person who stole my van from in front of my house in Parnell could do the same. Wishful thinking, eh?"
Film editing savages Wolf of Wall Street
Film fans in the United Arab Emirates have been shown a heavily edited version of The Wolf of Wall Street which left the story "incomprehensible", it's been reported.
About 45 minutes were removed from Martin Scorsese's film - mostly scenes depicting sex and drug-taking - and dialogue was muted to mask profanity. One cinema-goer told the Gulf News: "It's like looking at the Mona Lisa with sunglasses on. There are so many unorthodox cuts that you are never really sure what's happening." (Source: BBC.co.uk)
Gift that's gone astray
Andrew writes: "We live in Thuja St, Green Bay. A week ago there was a pink bag left in our mailbox with new baby clothes and a card. The card has the name Emma on it and had been opened. The card reads: 'To Emma, Cris + Bradley. Hope all is well with you all, enjoy, Betty.' Maybe this has been stolen from another letter box but there is no more information on the card. Can you help with this?"
Keep your hugs to yourself
"It seems that you are now only considered 'normal' in our society if you are extroverted, hug anyone and everyone and love parties," writes Pam. "Please, just go to your parties, hang off everyone you look at and realise some of us are more than happy to be left alone and un-hugged."
... and those sloppy snogs
A reader writes: "I hope the hugging researcher moves on to research kissers - those people who, despite being born outside of Europe and not even knowing you, greet you with a hug then proceed to (often sloppily) kiss you on the cheek or on the lips. Only my husband kisses me, the rest of you, please stay away."
Fill in the blank at Pecks Bakery, Glen Eden.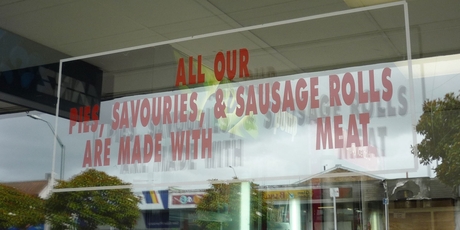 Video: Female maskers, also known as 'dolls', are a hidden community of ordinary family men who lead double lives, dressing up in head to toe rubber suits to become their own ideal fantasy woman alter-egos...
Picture this: Odd and Awesome 2014 Calendars...
Video: A cute and quirky exploration of fatherhood...
Three Depictions of Fatherhood from Super Frog Saves Tokyo on Vimeo.
Got a Sideswipe? Send your pictures, links and anecdotes to Ana at ana.samways@nzherald.co.nz