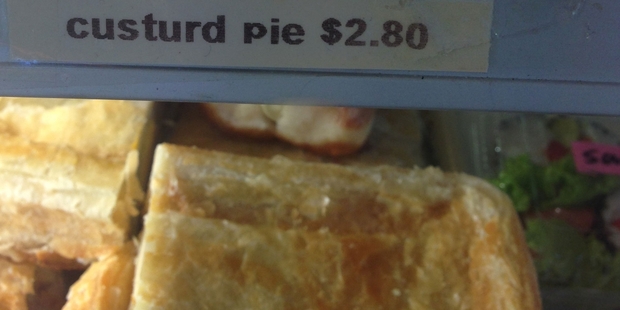 Supermarket grumbles #1
Elana Hokkan was at the deli counter in her local supermarket when she saw a woman trying to get the server to put some meat in a plastic bag rather than the fancy (but impractical) sleeves they now like to use. "After three goes at telling the server to use a plastic bag as she didn't know what a plastic bag was, the lady rather acidly (and loudly) said, 'Plastic bag: what they should have put over your head at birth!"'
Supermarket grumbles #2
"I hate modern supermarkets," declares a reader. "My mother used to give me a list, a wicker basket, and a pound note. I'd go to the grocers and a man in a warehouse coat would rush around collecting the items on my list, pack them in the basket and give me two bob change. Easy. Now I have to do the rushing around from one end of the gigantic supermarket to the other, while at the same time try to do a quick psychoanalysis of the minds of the shelf stackers to ... find the things I want. All the cashier has to do is stand and take my money, and even then they are delegating more and more to the so-called 'quick exit' DIY machines, which are often the most user-unfriendly gadgets.
If one doesn't behave precisely as the computer programmer has designed, it throws a tantrum, and some electronic 'bitching Betty' starts telling you what to do!"
Best Answer of 2013 from Q&A site Quora Q:
Q: How do I come to terms with being ugly?
A: How people perceive you is not based solely upon looks. I have a very good friend who is not a good-looking man and while not extraordinarily grotesque looking, you'd never look at him twice if you walked past him on the street. But he's the funniest guy I've ever met. Very friendly, cares about people ... Everywhere he goes, he has this instant rapport with people he doesn't know and can talk about virtually anything. His stories are off-the-wall entertaining and he just has a unique ability to "connect" with people. Never a problem attracting the opposite sex ... When I met him we were working part-time in direct sales. On his first day I asked him in front of the whole group, 'Why do you think you made the sale?' He replied, 'Because I'm handsome!' The entire room was in stitches. The moral is: Don't be so fixated on the things you can do nothing about. Instead, work towards continually improving yourself, be friendly and kind, further developing your self-esteem and personality. These things are far more important than outward appearances."
Picture this: The average women's magazine cover.
Social Media: Whatever you think of James Blunt's music, he know how to serve it up to his trolls on Twitter.
News: "This is a lovely article, about Jorjah Snowden, 8,who is captured in front of a frolicking pod of dolphins in Kaimarama Bay, but reader Stefan has two questions: 1. Why is Jorjah using a $500 carbon fibre wing paddle (like the one Lisa Carrington uses!) 2. Whose feet are in the picture?"
New favourite site: Respectful Rappers re-writes the lyrics to be uber-respectful to the ladies...

Video: These fireworks might've been better at night.

Got a Sideswipe? Send your pictures, links and anecdotes to Ana at ana.samways@nzherald.co.nz.