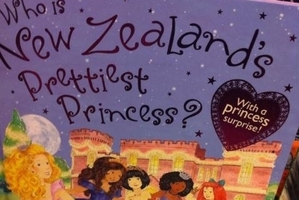 A future gambler...
To celebrate our daughter's university graduation, we decided to try a buffet restaurant at SkyCity. An apparent design fault has the signposted route skirting the entrance of the casino's gambling floor to reach the eatery via a short escalator ride. We were early, so waited in the restaurant foyer at the top of the escalator for our daughter and our 4-year-old grandson, who duly arrived by lift. The boy was in a restless mood, requiring a handy diversion, and was excited when I suggested he and I take a quick trip down the escalator and back. A security guard barred our way, saying we had be over 20 to go "to the casino". I offered identification to prove I was three times that age, but he said that wouldn't cover junior. So I had to tell the disappointed wee fellow he would have to wait until he was old enough to come back and break into his piggybank to clean out the lion's den.
Laughter can be hurtful
The British Medical Journal reviewed research on harms arising from laughter and produced a wide-ranging list of laughing-related dangers, from asthma attacks, protrusion of abdominal hernias, jaw dislocation, and stress incontinence, cardiac and oesophageal rupture and cerebral tumours. The authors concluded "Laughter is not purely beneficial. The harms it can cause are immediate and dose-related, the risks being highest for Homeric (uncontrollable) laughter".
Lost your bumper? Check out west
Anna Wakelin was leaving Te Pai Park in West Auckland on Wednesday around 4pm when a black car drove past her. Unbeknown to the male driver his rear bumper fell away from the rest of the car and he continued driving towards Lincoln Rd. If the owner of the car is still looking for his rear bumper, black with red trim, then it is still on the verge across the road from Te Pai Park where I pulled it off the road.
Famous Secret Santa
Reddit user Rachel received a rather modest gift of a stuffed toy cow from a Reddit Secret Santa participant named Bill. Rachel wrote on Reddit: "Quite frankly I felt bad for this 'Bill' since I'm a self-identified pain in the ass to shop for." It wasn't until she opened the card that she realised the true identity of the gift giver; it was Bill Gates. The stuffed cow symbolised a donation given to Heifer International on Rachel's behalf. The organisation "gives families in need the right tools" - such as animals, seeds, clean water, safe stoves or a chance for girls to go to school.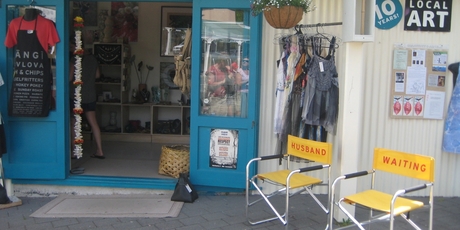 Ultimate Christmas shopping service spotted at a shop in the Coromandel township.
Picture this #1: This Irish farmer is the king of Snapchat...
Picture this #2: BBC interviews random guy on the street who just happens to be The Fonz...
Video: Film maker guy sells his 1996 Nissan Maxima as if it was a luxury car....
Got a Sideswipe? Send your pictures, links and anecdotes to Ana at ana.samways@nzherald.co.nz.