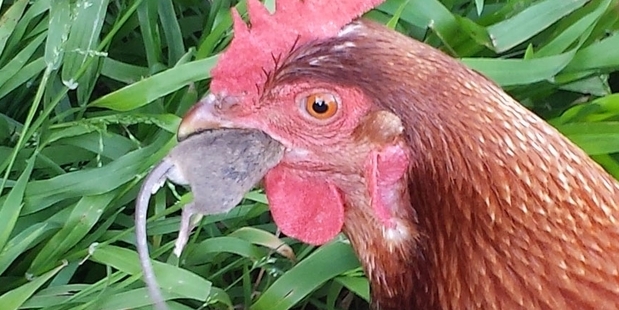 Who needs a cat when you've got a mouse-eating chicken? Denis Grogan from Waiuku says his free range chicken has learned to catch field mice and seconds after this photo was taken swallowed the mouse whole. "I am a bit reluctant to have my usual Saturday morning bacon and eggs as it may now take on a whole new flavour."
Mantras for modern life
A friend's Facebook post called for pithy and unusual sayings. These were my favourites:
1. "They say with age comes wisdom but sometimes age comes alone."
2. "The kumara doesn't speak of its own sweetness."
3. "The dogs may bark but the caravan moves on ..."
4. "If you're going to put your foot down, make sure you like where you're standing."
5. "Kia mate ururoa, kei mate wheke. Better to die like a great white shark (with a lot of thrashing about, I assume) than die like an octopus (passively)."
6. All advice for life can be found on the back of a Janola bottle: "Keep cool and upright".
Does anyone have any to add?
Mega rich? Put a lion in your Lamborghini
The latest status symbol for mega-wealthy young men of the Gulf Arab states is to illegally own a wild animal, keep it as a pet, and document it on Instagram - preferably alongside your Mercedes or Lamborghini. Jasim Ali runs the Ras Al Khaimah Wildlife Park in the United Arab Emirates and he adopts and cares for those animals that are discarded once they become too large and dangerous for their boastful owners. "If someone buys a very expensive animal, he is boasting that he has enough money to get anything he wants," he said to CNN. "If he has a tamed wild animal like a lion, he is trying to show off that he is brave. But this is not courage; this is animal rights abuse." (Source: The Daily Mail)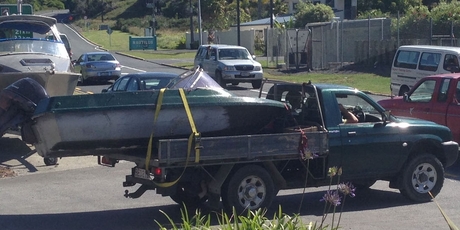 Ruapehu Rabbit dressed to impress
A reader writes: "Further to Tuesday's Sideswipe on TV One's This Town programme, Rabbit with the strange haircut has just been elected to the Ruapehu District Council as its Waimarino-Waiouru ward representative. He turned up to the first meeting wearing a blue shirt and leggings along with pink shorts and tie, so I can envisage future meetings being rather lively."

Trade Me finds: 1) Gareth Morgan should bid on this...
2) Want a designer bed by Otis Frizzell and Hollie Smith? Come on it's for charity!
Video: Test your observation skills (I may as well have been asleep)...
Unintentionally ribald: After mainstream news reports about Qatari World Cup stadium looking like lady parts, Sideswipe has to take it to the next level...Here are more innocuous things that look like vaginas...
Video: A slow-motion video booth at a wedding is a wonderful idea...
Got a Sideswipe? Send your pictures, links and anecdotes to Ana at ana.samways@nzherald. co.nz