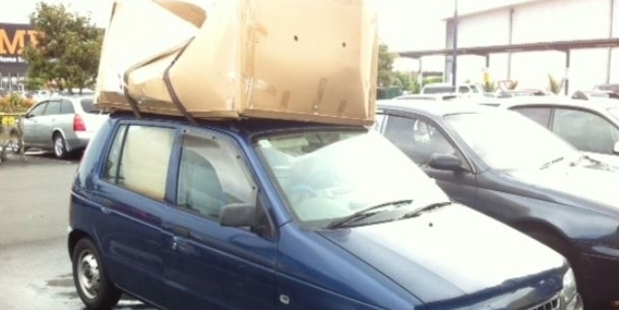 The other day Gary Stewart spent 20 minutes waiting on the line for ACC. "They don't play music," he says. "They supply statistics and advice like: 'The most dangerous room in the house is the kitchen' ... 'chairs are for sitting on, not for standing on, use a stepladder' . Then, a bit later on, '5000 people a year are injured from falling off ladders' ... hmmm. I wonder how many are injured falling off chairs?"
Too fancy for that party
Fancy dress parties sound fun, but only if everyone joins in: "I dressed as a panda for a fancy dress party, but it turned out the hosts had been too lazy to bother, and too lazy to spread the word thoroughly. I was a panda, my sister was dressed as an '80s chick and her boyfriend was Max from Where the Wild Things Are - in a homemade costume sewn from towels, with a crown and non-removable mittens. He could hardly hold a drink in those mis-stitched mitts, let alone eat or hygienically use the toilet. I even took my own bamboo.
I went home early." (Source: B3ta.com)
Vegetarian carrots ... really
Helen Jackson of FoodLovers.co.nz noticed carrot sticks in Christchurch Koru Lounge labelled: "Vegetarian and gluten free". Really? "Have you noticed how many companies have started to label their products 'free' of gluten, fat or added sugar when that is simply stating the obvious as those items would have never had that in them in the first place?"
It's a dog's life
"Am I missing something?" wonders Mike. "Every morning I walk my dog (enthusiastic 2-year-old retriever cross) through Western Park, an off-leash area, always at 6.30-7am. Never too many people around. She runs like the wind and stalks and points [for birds] as well. Yesterday morning I was accosted by a young woman saying I should control my dog, that she was chasing birds and was disturbing them in their habitat! When I picked myself up off the ground, I explained that it's an off-leash dog park, none of the birds are native and she never catches the birds anyway, so isn't hurting anything or anyone. I should probably apologise for telling the young lady to 'get lost' when she persisted ... but ... do we all need to train our dogs not to chase birds any more?"
Television recording woes
Heaps of readers wrote in to complain about television scheduling irregularities cutting off the end of viewers' recorded programmes. Some explained there is an option with MySky to extend your recording by 20 minutes, although doing this on all your recordings would suck up your hard drive unnecessarily ... and another reader explains that if you record two sequential programmes on the same channel using MySky, you'll find that it chops off the end of the first programme but adds it to the start of the second programme. Either solution seems easier than trying to get the TV networks to run their programmes on time.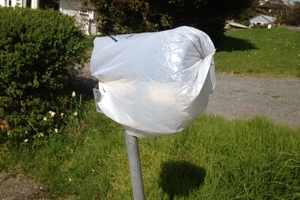 Picture this #1: "The Egyptian God Anubis is dressed casually today"...

Picture this#2: Creepy Mannequin series...

Art: A photo series that by Dina Goldstein which captures the deteriorating relationship between "dolls" Barbie and Ken. " 'In The Doll House' examines the less than perfect life of B and K. B is a super doll, the most successful doll in the world. Her partner K is grappling with his sexuality and finds himself in a loveless marriage. He struggles with his position in the household and faces his lack of authenticity."

Video: A makeover solves everything; even alcoholism and homelessness...
Got a Sideswipe? Send your pictures, links and anecdotes to Ana at ana.samways@nzherald.co.nz