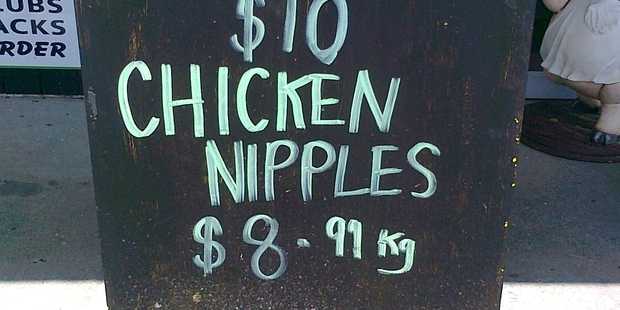 Christine Schofield was amused by this unusual chicken product on the billboard outside Delboy's Quality Meats in Howick. "I would imagine that they would be as scarce as hen's teeth!" she says.
Why Steve is such a wonder
Urban Dictionary defines the name Steve: "Steve (short for Steven/Stephen) is a name associated with power and awesomeness. An Australian male with the name Steve should be praised constantly. Historians have noted that the name derives from a line of kings, sports stars and top blokes. Philosophers in the mould of Nostradamus and Albert Einstein have stated that the name Steve should be put away because it would be difficult for any young male to have such a burden placed on their shoulders. However this theory was rebuked by the AOS (Association of Steves) who correctly suggested that once a child is named Steve they can automatically take on such a mantle, as with the name they are the recipient of much greatness, authority and laid-backedness. Parents who embed their children with this hallowed name shall receive an all-round champ of a son for their knowledgeable choice. My name is Steve. All hail Steve, The Almighty."
Luminous ice-cream glows in your mouth
The world's first glow-in-the-dark ice cream has been created - but it will cost you 140 ($270) for a single scoop. The eerie-looking dessert, made by Bristol inventor Charlie Francis, gets its green sheen from a synthesised version of the protein that makes jellyfish luminous. "The protein in the ice cream reacts with your tongue at neutral pH. So as your mouth warms up the protein it will raise the pH level and the ice cream will glow." (Source: Metro.co.uk)
McNuggets turn to gold
The fastest man in the world, Usain Bolt, ate 1000 chicken McNuggets during the Beijing Olympics, according to his memoir, Faster Than Lightning. Bolt said he thought the food in China was too "odd", so he went to McDonald's. "At first I ate a box of 20 for lunch, then another for dinner. The next day I had two boxes for breakfast, one for lunch and then another couple in the evening. I even grabbed some fries and an apple pie to go with it." (Source: New York Post)
Lost Lemon on the run - last seen in Ponsonby
Bronnie writes: "Missing - Ponsonby. Much loved and lovable dog and local identity. She is the sister of 14 local and one Remuera (yes, Lulu went to the dark side) offspring from Cinnamon and the mother of nine Ponsonby/Herne Bay residents. Last seen running about with gay abandon in Western Park - alone and pin collared. Answers to the name of Lemon when she is not on the run." Please email Sideswipe with any leads.
Clever name
Someone must have thought they were pretty clever coming up with this brand name. (Spotted at a pharmacy in Manly, Whangaparaoa).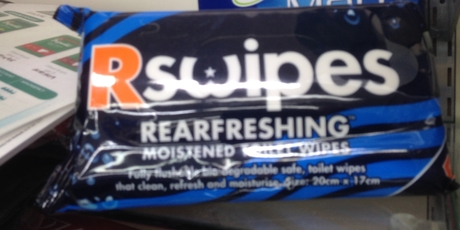 Good Read: Why generation Y yuppies (born between the late 1970s and the mid 1990s) are unhappy...
Video: "Touching Strangers," by photographer Richard Renaldi is a series of pictures of strangers who he grabs and asks them to pose together as if they're actually dearly acquainted friends or family.
Picture this: Scroll down...
Video: This busker in Berlin was playing Smalltown Boy by Bronski Beat, when Jimmy Somerville, former singer of Bronski Beat just happened to be walking his dog...
Got a Sideswipe? Send your pictures, links and anecdotes to Ana at ana.samways@nzherald.co.nz