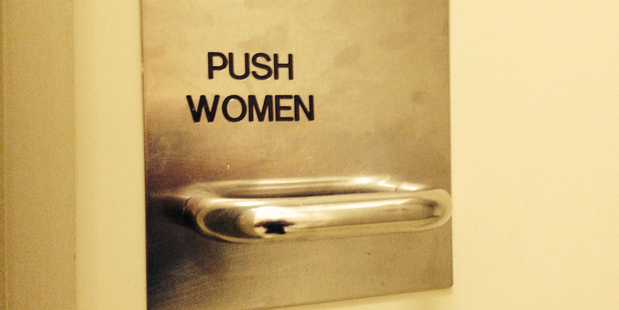 Toilet door sending the wrong message.
Beware of little conmen
A reader writes: "I was putting air in my tyres at the Pt Chevalier Mobil station, when a young boy wearing glasses (who seemed like a very nerdy, innocent type of kid), asked for a couple of dollars for a bus fare to his mate's in Kelston. He said he was getting away from home as his dad was beating up his mum. I suggested he call the police but he said he just wanted to get out till things cooled down. I felt sorry for him and gave him $5 and he left. After I had finished I saw him jump into the back of a car in the nearby Countdown carpark. Thinking this looked suspicious, I went over ... and there was his mother in the driver's seat, looking fine while her son was trying to hide in the back seat. To make things more interesting, she said she was deaf and couldn't understand me. The young boy gave my $5 back and said sorry with a bright red face. I told them to grow up and called the police with their rego number. Watch out for those innocent-looking schoolboys."
Strange but true
1. Emergency services were called to Medgar Evers College Preparatory School in Brooklyn after a hazardous smell was detected. It was later determined that someone had released Axe Body Spray in a full classroom. Eight students were taken to a hospital for treatment, although no serious injuries were reported.
2. Canadian border control has seized two kilograms of cocaine from a passenger's bag at the Montreal-Pierre Elliott Trudeau International Airport. The cocaine was hidden in three pumpkins found during a search of a female passenger's luggage. Not such a bright idea, given fruits and vegetables are particularly scrutinised at border crossings. (Source: Mental Floss)
Feathers flying in Tokyo test
"I was intrigued by the avian flavour of the two teams that played in Tokyo on Saturday evening," writes Renton from Pukekohe. "Japan featured a Wing, and a Tui while NZ fielded a Bird, and a Thrush - and there was even a McCaw on the field. I believe several of the players tweeted after the game."
Old stamps hardly pushing the envelope
In answer to Grant's query about the value of old stamps on mail, David Armishaw writes: "There is minimal value in old, decimal, low-denomination New Zealand stamps being used on current mail. As used they can be bought by the kilogram! I get catalogues from dealers and they nearly always have similar stamps. Dealers buy old stamp collections cheaply and recycle the mint stamps on their mail or sell to other firms."
Party to the max
Seen outside a Birkenhead cafe on Friday morning.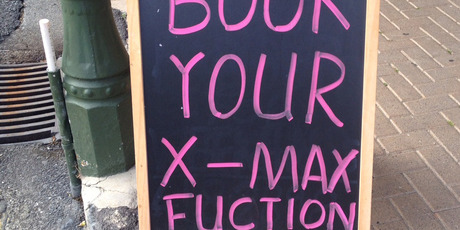 Two animal clips:
1. determined mouse...
2. Bovine contortionist...
Only in New Zealand: Lamb's big day out - to the skate park and the beach ...
Trade me: Frustrated novelist and cat lover writes listing...
Video: At the Open Cup in St. Petersburg, Russian bodybuilder Vadim Skornyakov spiced up his pose routine with a highly entertaining lip-sync and dance moves...
Got a Sideswipe? Send your pictures, links and anecdotes to Ana at ana.samways@nzherald.co.nz